Almost Adults by Ali Pantony – Book Review
Almost Adults by Ali Pantony – Book Review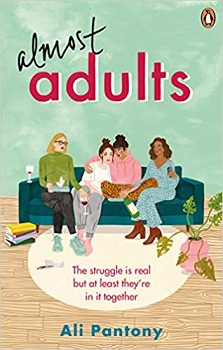 Almost Adults
Author – Ali Pantony
Publisher – Ebury Press
Pages – 384
Released – 8th August 2019
ISBN-13 – 978-1529104301
Format – ebook, paperback
Reviewer – Stacey
Rating – 4 Stars
I received a free copy of this book.
This post contains affiliate links.
Ever managed to kill a succulent after just a few days?
Got seven reminder letters on the kitchen table because you forgot to pay your council tax?
Become a hot mess who's falling apart because they've been broken up with?
Mackie, Edele, Alex and Nat are navigating their chaotic and confusing twenties together. They have jobs and pay their own rent (well, most of them) but don't know how to bleed radiators, defrost a freezer or test the smoke alarms.
With break-ups to deal with and major decisions to make, life can get messy especially when they're still trying to get the hang of this 'being a grown-up' thing.
Welcome to the joys of being almost adults.

Meet Nat, Edele, Alex, and Mackie four women in their late twenties who have been friends for many years who are each trying to work out what it is to be an adult.
Nat – (Natasha) In the early hours of the morning her long term boyfriend, who she lives with returns home from an impromptu night-out and declares he no longer loves her in that way and that he is moving out. Nat is devastated and heart-broken. She is now having to learn to live on her own, do everything for herself and get herself back in the dating game.
Edele – Still lives at home with her mum and younger brother (who happens to have a very hot best-friend). She likes the odd glass of wine, lager, cider or any other alcoholic beverage. She is out of work and broke. Her mum gives her pocket money for doing chores.
Alex – Teacher Alex lives with her boyfriend Craig. She feels that things are quite right between the two as he's being secretive and rushing out on her. She doesn't believe he is cheating, but something is happening in her relationship and she needs to know what.
Mackie – (Emma) Works as an Art Editor for a magazine company. She wants to further her career but the magazine seems to be in trouble. There is one option but it means moving away from the place she calls home and her friends. Is she brave enough to make the leap?
Individually these four women are all facing their own personal battles, but they are a solid team there for one another at the drop of a hat. They comfort one another and lift each other's spirits both in person and via WhatsApp messages in their group chat 'Mean Girls'.
What I love about Almost Adults is the friendship that these four girls have. They each bring their own unique style and flair to the book and via chapters from different POVs you get to see the girls through their eyes and through their friend's eyes too.
The book has plenty of humour, however, I don't think I would call this a comedy of any degree as it is a book primarily about four women in their late twenties trying to survive in a world which tries to make you conform to the way society wants you to act. It is also about life and taking the good with the bad, as well as their long and strong friendship.
Individually the girls are a mess in their own way, but together they are tough and can take on the world. They stand by one another no matter what happens and this was such a joy to read.
The book was engaging and I enjoyed it all, which surprised me as my heart dropped when I noticed it was told in multiple POV as that is something I normally hate. Goes to show how well the book is written and how invested in the girl's lives I became as I didn't even notice after a while that it was multiple POV.
Book Reviewer – Stacey
---
Purchase online from:
---
About the Author

Ali Pantony is a freelance writer and editor. Her writing has appeared in Glamour, Grazia, BBC Three, Refinery29, Vice, Red and Evening Standard. Almost Adults is her debut novel. Ali was born in Maidstone, Kent, and lives in North London.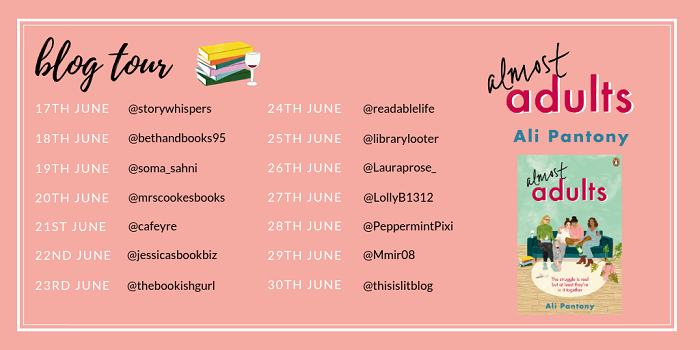 ---
What did you think of the book? Share your thoughts in the comment section below!
---
The above links are affiliate links. I receive a very small percentage from each item you purchase via these link, which is at no extra cost to you. If you are thinking about purchasing the book, please think about using one of the links. All money received goes back into the blog and helps to keep it running. Thank you.