The Christmas Calendar Girls by Samantha Tonge – Book Review
The Christmas Calendar Girls by Samantha Tonge – Book Review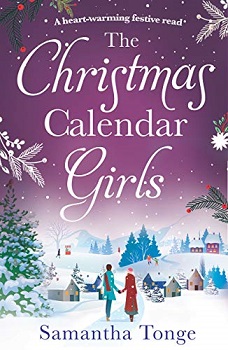 The Christmas Calendar Girls
Author – Samantha Tonge
Publisher – Aria
Pages – 320
Released – 3rd October 2019
ISBN-13 – 978-1838930769
Format – ebook, paperback
Review by – Stacey
Rating – 4 Stars
I received a free copy of this book.
This post contains affiliate links.
This Christmas fall in love with the town of Chesterwood…
Christmas is meant to be a time of giving, so with Chesterwood food bank under risk of closure Fern knows just what to do to save it. She's going to get the town to create a living advent calendar.
Fern, and her best friends, call for help from the local community to bring this calendar to life. When Kit, the new man in town, offers his assistance Fern's heart can't help but skip a beat (or two).
As they grow ever closer, Fern must admit that Kit's breaking down the barriers she built after the death of her husband. But his past is holding him back and Fern doesn't know how to reach him. No matter how hard she tries.
In this town, Kit's not the only one with secrets. Domestic goddess Cara is behaving oddly, burning meals in the oven and clothes whilst ironing, and Davina's perfect children are causing trouble at school leaving her son, Jasper, desperately unhappy.
Can the Christmas Calendar Girls find a way to bring the community together in time to save the food bank, while still supporting their families and each other? Can Fern find love again with Kit?
This is a story about kindness and letting go of the past. It's about looking out for your neighbours and about making every day feel like Christmas.

Widow Fern has recently moved to the small village of Chesterwood with her young daughter Lily and has fitted in perfectly. She has made plenty of friends with the mums from her daughter's new primary school. However, she is struggling to move on after her husband's death but with the help of her new best friends Cara and Davina, she is slowly starting to feel less pain and maybe thinking about love again.
When the local food bank is in jeopardy of closing due to funds for the rent of the building they hire, Fern comes up with an idea, for the village to host a real-life advent calendar that will involve all the villagers.
The advent calendar is going to take a lot of planning and effort to make it a success and to earn enough money to keep the food bank open and with it already being the end of October can Fern and the villagers pull it off as well as deal with their own private problems too?
Who doesn't love a festive read? When I first heard about The Christmas Calendar Girls I was thinking this was going to be one of those books about a group of women getting naked and posing for a charity calendar, how wrong could I be! This book is nothing like that, in fact the advent calendar idea is completely new to me and I think it is a great idea – you will have to read the book to see what it is all about.
Fern is a lovely woman who has had a few hard years after the death of her husband and is now bringing up her daughter Lily alone. She is at that point where she thinks it may be time to move on and possibly find romance again, but at the same time feels guilty.
The villagers are a wonderful community of people and I just wish that more communities came together in real life and helped one another out.
My tiny nag about the book is how many times it was mentioned that Fern's husband had died, especially within the first few chapters, it felt like it was stated on every few pages – I haven't counted, but it became a little repetitive after a while.
The Christmas Calendar Girls is a lovely festive read that is exceptionally heart-warming, poignant and a lot of fun. Add it to your festive reads list, you will not be sorry.
Book Reviewer – Stacey
---
Purchase online from:
---
About the Author

Samantha Tonge lives in Manchester UK with her husband and children. She studied German and French at university and has worked abroad, including a stint at Disneyland Paris. She has travelled widely.
When not writing she passes her days cycling, baking and drinking coffee. Samantha has sold many dozens of short stories to women's magazines.
She is represented by the Darley Anderson literary agency. In 2013, she landed a publishing deal for romantic comedy fiction with HQDigital at HarperCollins and in 2014, her bestselling debut, Doubting Abbey, was shortlisted for the Festival of Romantic Fiction best Ebook award.
In 2015 her summer novel, Game of Scones, hit #5 in the UK Kindle chart and won the Love Stories Awards Best Romantic Ebook category. In 2018 Forgive Me Not, heralded a new direction into darker women's fiction with publisher Canelo. In 2019 she was shortlisted for the Romantic Novelists' Association romantic comedy award.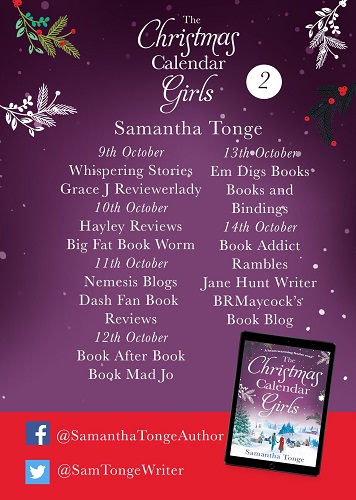 ---
What did you think of The Christmas Calendar Girls? Share your thoughts in the comment section below!
---
The above links are affiliate links. I receive a very small percentage from each item you purchase via these link, which is at no extra cost to you. If you are thinking about purchasing the book, please think about using one of the links. All money received goes back into the blog and helps to keep it running. Thank you.