A Spell of Murder by Kennedy Kerr – Book Review
A Spell of Murder by Kennedy Kerr – Book Review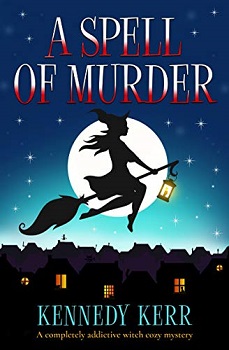 A Spell of Murder
Lost Maidens Loch Mystery Book One
Author – Kennedy Kerr
Publisher – Bookouture
Pages – 267
Released – 3rd October 2019
ISBN-13 – 978-1838880965
Format – ebook, paperback, audio
Review by – Stacey
Rating – 4 Stars
I received a free copy of this book.
This post contains affiliate links.
In the sleepy town of Lost Maidens Loch, people sometimes disappear… Down a quiet lane in town sits a little shop full of oddities you'd probably miss if you weren't looking for it. This is Love's Curiosities Inc., and its owner, Temerity Love, is sought by experts all over the world for her rare and magical gift: the ability to find lost things and learn their stories.
When Lost Maidens' pretty local school teacher is found murdered by a poisoned cup of tea, a strange antique hand mirror is discovered nearby. Temerity – with the help of witchy sister Tilda, their cats Scylla and Charybdis and the lovingly eccentric local townspeople – is determined to divine the story behind the mirror and its part in Miss Molly Bayliss' untimely death.
If only grumpy out-of-towner Angus Harley of Lost Maidens Police wasn't on the scene. Temerity can't solve the crime without him, but he's distracting, and in more ways than one. Can this unconventional duo solve the most mysterious murder ever to blight Lost Maidens Loch before the killer strikes again?

Temerity Love, owner of 'Love's Curiosities Inc', her unusual little shop in the small village of Lost Madiens Loch, Scotland, lives with her older sister Tilda above the shop, along with their two cats and their Macaw Parrot called Hebrides. They are deemed witches by the villagers and often called upon when a mystery needs solving.
Temerity has the gift of psychometry, which means she can make physical contact with an object and feel its past. When local primary school Miss Molly Bayliss dies at the school the murder weapon seems to be a cup of tea laced with poison. Next to the cup was an old hand-made mirror and Temerity is called in to use her gift to help the police solve the crime.
Inspector Kim Hyland and new constable Angus Harley are assigned the case. Angus is sceptical about Temerity's gift, preferring a more 'normal' investigation. However, over time he comes to see the way that Temerity clicks with objects. Can she help solve the case and convince Angus of her powers?
I'm a real sucker for books containing witches and whilst I have read many books featuring them I've never read a cosy mystery before so I wasn't sure what to expect.
The book started quite slow and I'll be perfectly honest just one chapter in and I believed this book wasn't for me, I'm more of a full-blown thriller gal so being gently introduced into the story just didn't work for me. I did preserve as I didn't want to just give a book one chapter. The book does pick up when the murder occurs and the pace changed and so did my interest.
Temerity and Tilda are both fascinating characters. I simply loved everything about them, including Tilda's love for old and rare books. They worked perfectly together and bounced off one another, just like Temerity and Angus. I enjoyed Angus's sceptical nature of anything that is out of the ordinary and how he didn't believe Temerity or her powers for one second but the more he witnessed the more he found himself fighting with himself to believe what he was seeing.
A Spell of Murder was set in a great location and had plenty of twists to keep the reader on their toes. It was a fun read and had plenty of humour within the pages, I simply adore Hebrides too. Going forward I'm not sure cosy mysteries are for me though as it did take me awhile to get through the book, I think all the years reading thrillers have had me wanting a little more, but I can certainly see this book appealing to many people. The writing was flawless, the plot engaging, I just wanted a little more action and more gritty scenes.
Book Reviewer – Stacey
---
Purchase online from:
---
About the Author

Kennedy Kerr is the author of the Lost Maidens Loch witch-themed cozy mystery series. She is from a Scottish family and adores the magic and mystery of Scotland and all the Celtic lands: cairns, misty mountains, stone circles and misty lochs are her particular favourite things. She is the proud owner of a cuddly black cat called Twinkle, who evidently believes she is a princess.
Kennedy also loves cooking and baking all types of food, which is almost as much fun as eating it.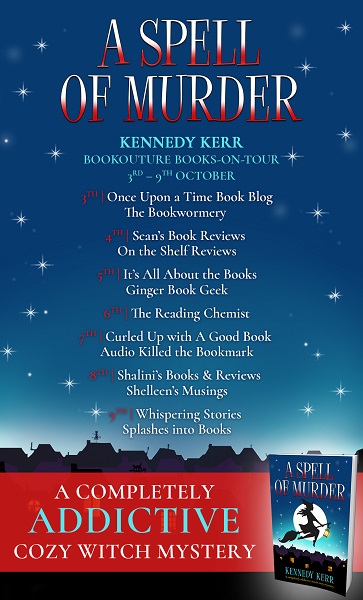 ---
What did you think of A Spell of Murder? Share your thoughts in the comment section below!
---
The above links are affiliate links. I receive a very small percentage from each item you purchase via these link, which is at no extra cost to you. If you are thinking about purchasing the book, please think about using one of the links. All money received goes back into the blog and helps to keep it running. Thank you.