Island of Dead Gods by Verena Mahlow – Book Review
Island of Dead Gods by Verena Mahlow – Book Review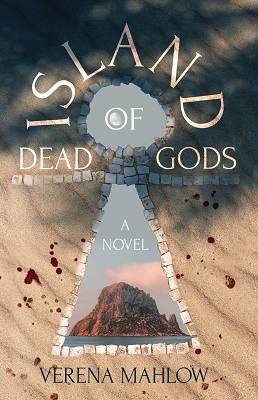 Island of Dead Gods
Author – Verena Mahlow
Publisher – Atmosphere Press
Pages – 414
Released – 20th July 2021
ISBN-13 – 978-1637528679
Format – ebook, paperback
Rating – 4.5 Stars
I received a free copy of this book.
This post contains affiliate links.


Synopsis
An island in the Mediterranean, a traveler's dream destination, and a nightmare for those involved in a deep-rooted crime.
Philine, interpreter, single mother, and bankrupt, is forced to sell her one asset, her beloved cottage on Ibiza, when she runs into even more problems: her best friend has disappeared, a fire breaks out-and, on top of all, she is confronted with Adam, a man she, for good reason, never wanted to see again.
He'd flown in from Texas to bury his sister, who supposedly committed suicide on the island, though he suspects she was murdered. When a connection between her death, Phil's disappeared friend, and more fatalities are revealed, the two ex-lovers reluctantly collaborate.
Philine (Phil) Mann is a single mother with a big problem: she owes a lot of money but she's bankrupt. Her only remaining asset is Can Philanton, a finca (a country home) on the island of Ibiza. So, she sends her son to England as an exchange student and travels to the island to arrange the finca's sale.
On the ferry from Barcelona, she meets Tamar, who puts her in touch with the top Ibizan realtor, Jorg Sherer. Herr Scherer is willing to handle the sale, but he's distracted because his wife just committed suicide.
So far so good, but now things begin to get strange. When Phil first visits the finca, she finds the place trashed, her best friend who was living there missing, and a dead rabbit head impaled on a fence post. Checking into a local hotel for the night, she runs into Adam Ryan. Adam is a former lover, but their relationship ended badly and he's the last person she wants to see now. He's in Ibiza because Sherer's wife was his sister, Amanda, and he doesn't believe her death was suicide. But the topper comes on Phil's next visit to Can Philanton. She finds the place in flames and the authorities tell her there's a dead body inside.
Phil wants to know who torched her only asset and why. Adam wants to find out who killed his sister and why. The two quickly realize their best course is to put aside their past and join forces. But that isn't going to be easy. Every time they think they find an answer, more questions crop up. And danger lurks everywhere.
Island of Dead Gods is entertaining, with lots of detail, a surprisingly large cast of characters, and numerous plot twists. There are so many moving parts that it's a little difficult to follow the story at first, but that fog soon lifts. From there, it's an engaging story that draws the reader in with one crisis after another.
All the action takes place on Ibiza. The writer has done a good job of painting word pictures of the island and life on it. The story starts to go off into the weeds in some places, but it quickly comes back on track, and it never wanders so much that the reader loses interest. If some of the plot twists are predictable, most are not. My only other quibble is the frequent inclusion of Spanish words and phrases. They do add color to the story, but they also made me reach (figuratively) for my dictionary a lot.
As a thriller, Island of Dead Gods delivers. I think readers will find it interesting and exciting, and it will keep most of them guessing right up to the end. I enthusiastically recommend it.
Purchase Online From:
---
What did you think of 'Island of Dead Gods'? Share your thoughts in the comment section below!
---
The above links are affiliate links. I receive a very small percentage from each item you purchase via these links, which is at no extra cost to you. If you are thinking about purchasing the book, please think about using one of the links. All money received goes back into the blog and helps to keep it running. Thank you.
Like us on Facebook – Tweet us on Twitter – Pin us on Pinterest – Join us on Instagram