The Cottage on Lily Pond Lane Part Four by Emily Harvale – Book Review
The Cottage on Lily Pond Lane Part Four by Emily Harvale – Book Review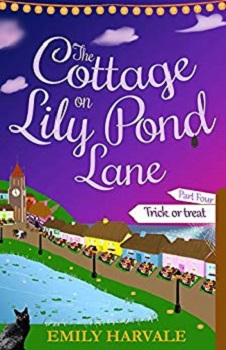 The Cottage on Lily Pond Lane Part Four
Trick or Treat
Author – Emily Harvale
Publisher – Crescent Gate Pub
Pages – 78
Released – 7th August 2018
Format – ebook
Reviewer – Stacey
Rating – 4 Stars
I received a free copy of this book
Post contains affiliate links.
Mia Ward was amazed to inherit her great-aunt Matilda's thatched cottage in the tiny seaside village of Little Pondale – especially as Mia didn't know she had a great-aunt Matilda. She was even more astonished to discover she'd only inherit the place if she lives there for a year.
But a lot can happen in a very short time, and life in Little Pondale is not going quite as Mia hoped. She may have finally beaten one fear, but now heartbreak threatens to drown her.
And when at last, she starts to unravel the mystery of Matilda's past, she uncovers an extraordinary plan for her own future. Now just who can Mia trust?
As the nights draw in and cold winds steal through Sunbeam Cottage, she turns to an unlikely source for comfort and support. But with the fortune teller's warning still ringing in her ears, is Mia about to make the biggest mistake of her life?

We're back in Little Pondale with Mia, Ella, Lori and the residents of the seaside town, for the fourth instalment in the series.
It's really hard to write a review of this book without giving away any spoilers to the earlier books, as this final part basically wraps everything up that has happened over the course of the series.
Mia now has access to her Great-Aunt Mattie's diaries and has been left a note to read them in order, starting when Mattie was twelve-years-old.
Someone is still trying to force Mia out of town and they have noticed how much she likes Jet and is now focusing their attention on him, but they didn't expect someone else to get in their way of hurting him.
The whole series has been a delight to read. I've enjoyed getting to know and spend the time with the characters. They have truly all grown on me.
We finally get to discover who the culprit is that is trying to run Mia out of town and why – Although I had worked this out a while ago. We also find out all about Mattie's life and who her assets will go to if Mia leaves the cottage before her year is up. This did come as a surprise, but I certainly wasn't shocked by the decision and think Mattie was a very clever woman.
I am also so glad to hear that Ms. Harvale has written a Christmas special as I'm not ready to say goodbye to the characters and their hectic lives just yet.
If you are looking for an engaging, fun series that will hook you into the lives of the characters and set in an adorable, quaint English seaside village, then this is the series for you.
Reviewed by Stacey
---
Purchase online from:
---
About the Author

Having lived and worked in London for several years, Emily returned to her home town of Hastings where she now spends her days writing… and chatting on social media. Emily is a Member of the SoA, a PAN member of the RWA and a Pro Member of ALLi. She's an Amazon bestseller and a Kindle All Star. Emily loves writing and her stories are sure to bring a smile to your face and a warmth to your heart.
Emily says, "I write about friendship, family and falling in love. I believe in happing endings." When she isn't writing, she can be found enjoying the stunning East Sussex coast and countryside, or in a wine bar with friends, discussing life, love and the latest TV shows. Chocolate cake is often eaten. She dislikes housework almost as much as she dislikes anchovies – and will do anything to avoid both.






---