The Manhattan Project by Paul McNeive – Book Review
The Manhattan Project by Paul McNeive – Book Review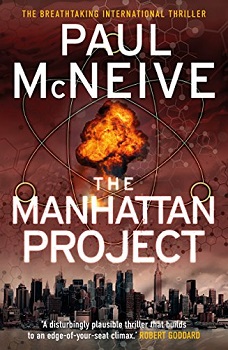 The Manhattan Project
Author – Paul McNeive
Publisher – 384
Pages – Black and White Pub
Released – 10th May 2018
ISBN-13 – 978-1785301926
Format – ebook, paperback
Reviewer – Stacey
Rating – 4 Stars
I received a free copy of this book
Post contains affiliate links.
New York City is under attack. Millions may die. But the enemy's weapons are invisible, undetectable and creating terror at lightning speed. Now, there's nothing to stand in their way …
A Hiroshima survivor turned criminal mastermind
Pharma industry fat cats corrupted by big money
A Libyan fast food entrepreneur coerced by threats to his family
A New York cop falling fast for an elusive beauty
Visitors to Tokyo from the desolate villages of southern Afghanistan
One terrible desire connects them all – one man's burning need to finally avenge those who died at Hiroshima and Nagasaki. With a brilliantly audacious and devastating plot to bring America to its knees, can anyone save New York from disaster?

The Manhattan Project begins in August 1945, Hiroshima, Japan with the dropping of the Atomic Bomb and the civilians caught up in the catastrophe. One of those who managed to survive the bomb was five-year-old Tsan Yohoto, who was at the park with his mum, brother, and sister. Unfortunately, his siblings weren't quite so lucky. As he grew older and those that had survived the bomb became sick from the radiation, Tsan swore to himself that he would seek revenge.
Present day and Tsan has masterminded a plot to kill millions of Americans. This time though, there will be no plane crashes, bombs exploding or vans being driven into crowds, this time the attack will be invisible, undetectable and deadly.
There is only one hope, can NYPD Detective John Wyse discover what is happening and stop the attack before it is too late?
What a book The Manhattan Project is. It is crime thriller at its best. Author Paul McNeive has managed to create a plot that is perfectly realistic and that is what makes it quite scary. The plan to kill millions is so sophisticated and yet so simple and not something anyone would ever normally suspect. I won't go into details as it would spoil the plot.
The book travels through various countries and jumps back and forth in time at the beginning whilst you get to follow the build-up to the plan. Once the plan is initiated the book stops going back and forth and is written in order of the days – some parts are time stamped too. It is also split into three sections. Lighting the Fuse, Ignition, and Fallout.
The first section and a few chapters into section two are quite slow as the story builds. I will admit to finding the beginning hard going at times as there are a lot of characters to remember, and the plot to kill millions was just beginning to be initiated. At some point in section two the pace suddenly picks up and the tension builds. This is when the excitement started.
The whole revenge and how it was sought is a real eye-opener, especially since it is something you could see some madman (or woman) trying to pull off. I'm not sure I like Paul NcNeive giving these people ideas!!
This is a thriller that will speak to people internationally with its terrorist theme. The book is certainly hard-hitting and had me hooked. It is alarming at times and I hope to never witness anything like the plot in real life.
Reviewed by Stacey
---
Purchase online from:
---
About the Author

Paul McNeive lost his legs in a fire aged twenty, and this life-changing experience and what happened to him on his road to recovery inform his debut novel, The Manhattan Project. In a highly successful career, Paul was the managing director of Savills, Ireland, and is now an international motivational speaker, a columnist for the Irish Independent, was the world's first double amputee helicopter pilot and is an ambassador for the Douglas Bader Foundation. He is also on the board of Ireland's National Rehabilitation Hospital.




---