In Numina by Assaph Mehr – Book Review
In Numina by Assaph Mehr – Book Review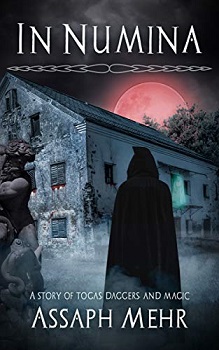 In Numina
Felix the Fox Book Two
Author – Assaph Mehr
Publisher – Purple Toga Publications
Pages – 362
Released – 11th August 2018
ISBN-13 – 978-0994449344
Format – ebook, paperback
Review by – Clive
Rating – 3 Stars
I received a free copy of this book.
This post contains affiliate links.
A tale of Haunted Houses and Court Houses: this is the second Story of Togas, Daggers and Magic – for lovers of Ancient Rome, Murder Mysteries, and Urban Fantasy.
A rich landlord finds tenants are abandoning his apartment buildings, spouting tales of horrific events and whispering that the old gods – the numina – came alive and cursed the buildings.
Enter Felix, a professional fox. Dressed in a toga and armed with a dagger, Felix is neither a traditional detective nor a traditional magician – but something in between. Whenever there is a foul business of bad magic, Felix is hired to sniff out the truth. Now he must separate fact from superstition – a hard task in a world where the old gods still roam the earth.
In Numina continues to explore the fantasy world of Egretia. It borrows elements from a thousand years of ancient Roman culture, from the founding of Rome to the late empire, mixed with a judicious amount of magic. This is a story of a cynical, hardboiled detective dealing with anything from daily life to the old forces roaming the world.

Around three years ago I reviewed Assaph Mehr's previous Egretian novel, 'Murder in Absentia', which I loved and for which I awarded four and a half stars. I am sorry to say that I could not get that enthusiastic about this second book. Indeed, I must confess to pausing about half way through until I forced myself to pick it up again two weeks later.
In Numina contains all the elements that I enjoyed in the first book; the details of Roman life, the food, especially the thought of fried dormice, the sea travel and the games. It also contains a lot of information on how their justice systems worked. As with Murder in Absentia, I made many diversions to an online Latin/English dictionary and to internet searches to complete my understanding.
The story is narrated by Felix the Fox who is an unconventional, partly trained, investigating magician. Mehr gives him real character and most readers will struggle not to like him. To support his work he has Aemilia, a teenager from a wealthy family and various odd-balls, generally those who can supply muscle as required. One of the amusing running threads is the conflicting attentions that he receives from Aemilia and her mother Cornelia.
To fully appreciate these books, the reader will need more knowledge of Latin and Roman history than I have. When I read the first book I found it such a novelty that I worked my way round these issues. This time I could not get so excited, particularly during the plodding and often repetitive descriptions of the magia reactions in the first half of the book and in the trial sections later on.
To his credit, the author has done his best to promote understanding. At the end of the book are substantial Author's Notes and a Glossary, both of which are very useful. Unfortunately my appreciation of the story failed to engender sufficient energy in me to want to take full note of all this information.
I recommend In Numina for readers who either have some background knowledge of Roman history and Latin or those who are interested enough to research and learn. Based on my personal experience I have to limit my rating to just three stars.
Book Reviewer – Clive
---
Purchase online from:
---
About the Author

I have always been fascinated by ancient Rome, from the time I was in primary school and first got my hands on Asterix. This exacerbated when my parents took me on a trip to Rome and Italy – I whinged horribly when they dragged me to "yet another church with baby angels on the ceiling", yet was happy to skip all day around ancient ruins and museums for Etruscan art.
A few years ago I randomly picked a copy of a Lindsay Davis' Marcus Didius Falco novel in a used book fair. I fell in love with Rome all over again, this time from the view-point of a cynical adult. When I decided to sit down and write a novel, the setting was clear in my mind.
Assaph now lives in Sydney, Australia with his wife Julia, four kids and two cats. By day he is a software product manager, bridging the gap between developers and users, and by night he's writing – he seems to do his best writing after midnight.



---
What did you think of In Numina? Share your thoughts in the comment section below!
---
The above links are affiliate links. I receive a very small percentage from each item you purchase via these link, which is at no extra cost to you. If you are thinking about purchasing the book, please think about using one of the links. All money received goes back into the blog and helps to keep it running. Thank you.