Cookie and the Most Annoying Boy in the World by Konnie Huq – Book Review
Cookie and the Most Annoying Boy in the World by Konnie Huq – Book Review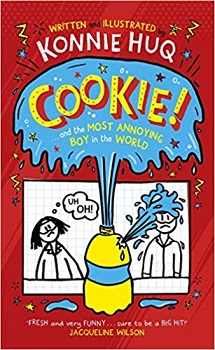 Cookie and the Most Annoying Boy in the World
Author – Konnie Huq
Publisher – Piccadilly Press
Pages – 256
Released – 8th August 2019
ISBN-13 – 978-1848128828
Format – ebook, paperback, hardcover, audio
Review by – Stacey
Rating – 4.5 Stars
I received a free copy of this book.
This post contains affiliate links.
Cookie's life is basically over.
Her best friend in the whole world is moving to Solihull because one of her dads has a new job there. Solihull?! Where even is that?! Cookie begs her parents for a pet to fill the void but they have given her an absolute NO. It would be way too expensive and way way too messy.
But Cookie has never been a fan of the word 'no' so she visits the pet shop anyway and sets her heart on the sweetest cutest kitteniest kitten ever: Bluey. But then . . . DISASTER! The most ANNOYING boy she's ever met in her entire nine years goes into the pet shop, buys Bluey and renames her Nigel! And then he joins her year at school! And if that wasn't bad enough, he moves in next door to her. AAAAGGGGHHHHH!
But it's not all bad . . . Cookie gets the chance to go on her favourite TV show, Brainbusters. It's only a chance though – she'll have to win the school science competition first. It shouldn't be too hard . . . all she has to do is keep her head down, and not get too over-excited.
Unfortunately that's not Cookie's strong point . . .

Nine-year-old Cookie is upset, her best friend Keziah is moving away, the Kitten that she wants has just been bought and the person who bought it has moved in next door to her and has changed the kitten's name from Bluey to Nigel. He also has joined her class too. Plus she has the worst teacher again this year – Who gets the same teacher two years in a row!!
When it is announced that her favourite game show Brainbusters has reached out to her school and offered them two places she is determined to get one of the spaces, but wouldn't you know it, the new boy is also extremely clever too.
Cookie and the Most Annoying Boy in the World is a wonderfully funny book featuring an amazing young girl who thinks that the world is against her. There are plenty of hilarious moments, from the time she decided to try catching a wild bird so she could keep it as a pet and ended up with a pigeon flying around her house to using a whole pack of Mentos in her volcano experiment which makes it exploded and covers her in Lemonade.
Throughout there are lots of illustrations that are very comical and make you visualise the scene perfectly. This is an amazing book that is not only very funny but shows you what it's like to be nine-years-old, including friendships and rivalry at that age.
I can see this book being a big hit and I do hope that it is going to be the first in a series as Cookie is such an amazing young girl that she needs more stories.
Book Reviewer – Stacey
---
Purchase online from:
---
About the Author
Konnie Huq – As the longest serving female Blue Peter presenter, from 1997 to 2008, Konnie Huq is no stranger to the middle-grade market. She is an ambassador for the Prince's Trust and the British Asian Trust. This is her first foray into children's books and Cookie is inspired by Konnie's own London Bangladeshi background, her love of science and her unashamed nerdiness!



---
What did you think of Cookie and the Most Annoying Boy in the World? Share your thoughts in the comment section below!
---
The above links are affiliate links. I receive a very small percentage from each item you purchase via these link, which is at no extra cost to you. If you are thinking about purchasing the book, please think about using one of the links. All money received goes back into the blog and helps to keep it running. Thank you.