Mimi and the Mountain Dragon by Michael Morpurgo – Book Review
Mimi and the Mountain Dragon by Michael Morpurgo – Book Review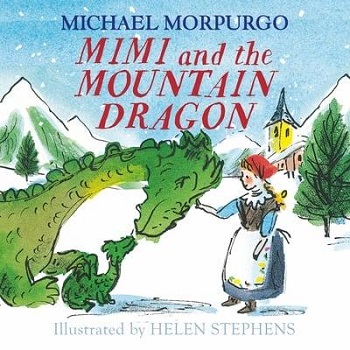 Mimi and the Mountain Dragon
Author – Michael Morpurgo
Publisher – Egmont
Pages – 48
Released – 5th September 2019
ISBN-13 – 978-1405294195
Format – ebook, paperback, hardcover
Review by – Stacey
Rating – 4 Stars
I received a free copy of this book.
This post contains affiliate links.
High in the mountains of Switzerland, lives a terrible dragon.
In the village below, the people do everything they can to keep the dragon away.
But one day, a little girl called Mimi finds a baby dragon. The little creature is lost and frightened but how did he get there and what if his mother comes looking for him? Mimi must be extremely brave if she is going to help the little dragon find his way home . . .
A wonderful story about friendship, courage and adventure, perfect for sharing with the whole family.

In this touching story, author Michael Morpurgo tells us a story of a place in Switzerland called Dorta where every Christmas Eve the folk of the town would hold a carnival and bang pots and pans, blow horns, etc to keep the Mountain Dragon at bay for the year. They would also come out on Christmas Morning and ring bells to say thank you to the dragon, this book tells you why they hold these two events.
The book is written as if these events truly happened, from the pages at the beginning that read as if Michael Morpurgo grew up in Switzerland in this town (I've checked and can't find a place called Dorta). To the final pages in which Michael talks about the town and the Mayor.
Mimi and the Mountain Dragon is all about a little girl called Mimi who one Christmas Morning finds a baby dragon. Once all the villagers have gone to church she decides to head into the mountains to take the dragon home before his mum comes looking for him and destroys the village thinking that they have taken her baby.
It is a very sweet tale and reminded me a little of The Grinch, though the dragon wasn't trying to ruin Christmas for everyone. The artwork throughout by Helen Stephens is so beautiful and brought the story to life.
This is a story that comes across as a traditional tale. It is very sweet with a happy ending and would make a wonderful bedtime read, especially for the festive season. From what I've read the book has also been turned into a TV animation too.
Book Reviewer – Stacey
---
Purchase online from:
---
About the Author

Michael Morpurgo is the author of many books for children, five of which have been made into films. He also writes his own screenplays and libretti for opera.
Born in St Albans, Hertfordshire, in 1943, he was evacuated to Cumberland during the last years of the war, then returned to London, moving later to Essex. After a brief and unsuccessful spell in the army, he took up teaching and started to write. He left teaching after ten years in order to set up 'Farms for City Children' with his wife. They have three farms in Devon, Wales and Gloucestershire, open to inner city school children who come to stay and work with the animals.
In 1999 this work was publicly recognised when he and his wife were awarded an MBE for services to youth. He is also a father and grandfather, so children have always played a large part in his life. Every year he and his family spend time in the Scilly Isles, the setting for three of his books.



---
What did you think of Mimi and the Mountain Dragon? Share your thoughts in the comment section below!
---
The above links are affiliate links. I receive a very small percentage from each item you purchase via these link, which is at no extra cost to you. If you are thinking about purchasing the book, please think about using one of the links. All money received goes back into the blog and helps to keep it running. Thank you.