True Gossamer: A Wingless Fairy Tale by S.E. Page – Book Review
True Gossamer: A Wingless Fairy Tale by S.E. Page – Book Review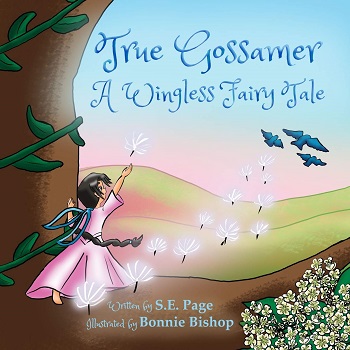 True Gossamer: A Wingless Fairy Tale
Author – S.E. Page
Illustrator – Bonnie Bishop
Pages – 21
Released – 22nd February 2021
Format – ebook, paperback
Rating – 4 Stars
I received a free copy of this book.
This post contains affiliate links.


Synopsis
Wings are the pride of every fairy. No hawk can swoop faster than a fairy in flight. No hummingbird flickers brighter. But Gossamer was born without wings, the only fairy in Evergloss Forest who couldn't fly.
When she catches a falling star, there is only one wish in her heart until her friends are thrown into danger. Join Gossamer on her quest for wings as she learns that some wishes are bigger than the sky!
True Gossamer: A Wingless Fairy Tale is a children's picture book featuring a little fairy called Gossamer who was born without wings. She spends her days upset that she isn't like the other fairy's and that she can't fly as they can.
One day an owl tells her that if she catches a falling star she can make a wish, so off she goes in a little boat into the middle of the water where the stars fall, but the one she catches isn't bright enough to use its magic so she keeps it until it is ready.
Will Gossamer wish for wings or is there something more important to her that will need a wish when the time comes?
The story is very sweet and I loved the message throughout about looking inside of you to what truly matters. As Slug says in the book, 'wings don't make a fairy real'.
The illustrations are colourful and visually narrate the story. They sit on the right-hand side of the book, whilst the text is on the left. There is quite a lot of text so new readers will most likely need some help with the words.
An adorable and engaging book that will show children what true friendship is as well as putting a little magic into their lives.
Purchase Online From:
---
What did you think of 'True Gossamer: A Wingless Fairy Tale'? Share your thoughts in the comment section below!
---
The above links are affiliate links. I receive a very small percentage from each item you purchase via these link, which is at no extra cost to you. If you are thinking about purchasing the book, please think about using one of the links. All money received goes back into the blog and helps to keep it running. Thank you.
Like us on Facebook – Tweet us on Twitter – Pin us on Pinterest – Join us on Instagram