Thunder Down Under by Timothy Knapman – Book Review
Thunder Down Under by Timothy Knapman – Book Review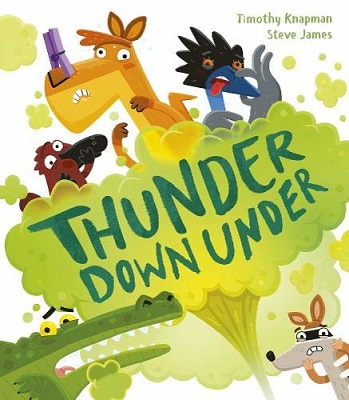 Thunder Down Under
Author – Timothy Knapman
Illustrator – Steve James
Publisher – Little Tiger Press
Pages – 32
Released – 13th May 2021
ISBN-13 – 978-1788818728
Format – paperback
Rating – 5 Stars
I received a free copy of this book.
This post contains affiliate links.


Synopsis
Crikey! Someone just farted! It's HUGE. It's smelly. But who did it? Not Wombat, Emu or Kangaroo. Tiny Numbat knows, but NOBODY is listening!
Down in Australia the animals all rushed out to play in the summer sun, but not long into their playtime a nasty, horrible, disgusting smell surrounded them and turned the air sour. One of them had had a bottom burp and they each accused one another of being the stinker, but who could it be?
From reading the very short blurb for this book I knew it was going to be funny, I mean what child doesn't find someone making a smell funny, add into the mix a load of random animals all accusing each other of being the culprit and you have a very humorous book.
I can see some of the parents out there getting a little hot under the collar about the word 'fart' being used, as I know many don't allow their children to use that word, and when my children were little I didn't either. If I'm honest my kids are 15, 18, and 24 and I still tell them to use a different word because I hate it. However, the book still made me laugh. If your children are too young to read then you could change the word for something you don't mind.
Thunder Down Under is illustrated with full-page, colourful, bright images. The text changes throughout in size, boldness, how it is written, but this brings the story alive. I love the ending and the little nugget of wisdom that is shared.
Depending on how you feel about farts in books you will either love it or hate it. I can see children loving it and giggling the whole way through.
Purchase Online From:
---
What did you think of 'Thunder Down Under'? Share your thoughts in the comment section below!
---
The above links are affiliate links. I receive a very small percentage from each item you purchase via these link, which is at no extra cost to you. If you are thinking about purchasing the book, please think about using one of the links. All money received goes back into the blog and helps to keep it running. Thank you.
Like us on Facebook – Tweet us on Twitter – Pin us on Pinterest – Join us on Instagram