Crab, Dab & Blenny by Peta Rainford – Book Review
Crab, Dab & Blenny by Peta Rainford – Book Review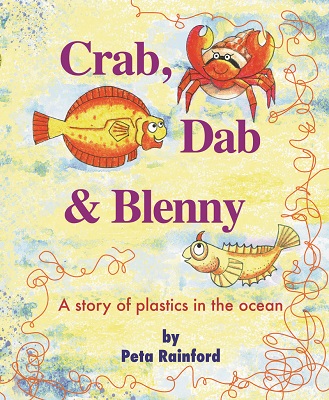 Crab, Dab & Blenny
Author – Peta Rainford
Publisher – Dogpigeon Books
Pages – 34
Released – 4th May 2021
Format – paperback
Rating – 5 Stars
I received a free copy of this book.
This post contains affiliate links.


Synopsis
Fish friends Dab and Blenny are upset by the plastic that washes into their lovely rockpool home. Crab, on the other hand, just LOVES the shiny bright colour… But when Blenny gets caught in plastic twine, Crab finally understands the danger of plastics in the ocean.
Inspired by the rockpools of the Isle of Wight, Crab, Dab & Blenny is a fun, rhyming picture book about friendship, with an important environmental message about plastic pollution.
It's a great way of introducing young children to this important issue, whether they are independent early readers or cuddling up for a bedtime story. It's also a great resource for teachers in Key Stage 1 (KS1).
Friends Crab, Dab, and Blenny lived in a rock pool. Crab wasn't happy with his home, he wanted something new, so when bits of plastic started appearing he embraced the new rockpool look. That was until his friend Blenny got caught up in some twine and the friends didn't know how to help him.
Over the last few months, I have reviewed a lot of children's books about plastic pollution and the effects it is having on our seas and oceans. This book is a wonderful addition to the collection of children's books that are aiming to educate the younger generation and to save our sea creatures.
This book is slightly different as it features a rockpool which I am certain a lot of children have seen when they have visited the beach. I love how we are introduced to the three friends who have very different personalities. I also loved how Crab at the start didn't think there was anything wrong with all the plastic and liked having new, different items in his home.
Author Peta Rainford explains to children in a simple to understand way why plastic is bad for the sea creatures, where it comes from, and how some of it is invisible to the naked eye, such as clothing fibres and microbeads.
The book is beautifully adorned with full-page amazing artwork that has a pastel/crayon look to it and emphasises how bad the plastic is.
Crab, Dab & Blenny is a beautiful, rich, educational story that will not only gives children a wonderful tale but also arms them with the knowledge that not only is plastic bad for the environment but how they can help when they are next at the beach if they see plastic lying around.
This is a book that would be perfect for a primary school class project. The only thing that I would have loved to have seen in the book is some facts or website details at the back where children could have found out more and how they can help protect the planet.
Purchase Online From:
---
What did you think of 'Crab, Dab & Blenny'? Share your thoughts in the comment section below!
---
The above links are affiliate links. I receive a very small percentage from each item you purchase via these link, which is at no extra cost to you. If you are thinking about purchasing the book, please think about using one of the links. All money received goes back into the blog and helps to keep it running. Thank you.
Like us on Facebook – Tweet us on Twitter – Pin us on Pinterest – Join us on Instagram