Party for Dads by Adam and Charlotte Guillain – Book Review
Party for Dads by Adam and Charlotte Guillain – Book Review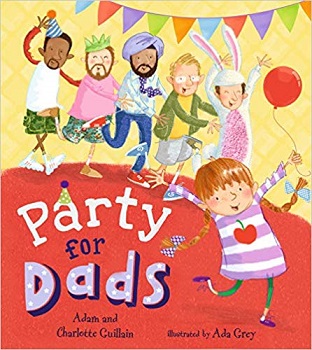 Party for Dads
Authors – Adam & Charlotte Guillain
Illustrator – Ada Grey
Publisher – Egmont
Pages – 32
Released – 2nd May 2019
ISBN-13 – 978-1405277501
Format – paperback
Reviewer – Stacey
Rating – 4 Stars
I received a free copy of this book.
This post contains affiliate links.
Get ready to do your best dad dancing and celebrate Father's Day with this joyful rhyming picture book.
Children and adults swap places in this hilarious follow up to School for Dads. Full of fun and silliness, this is the perfect picture book gift for Father's Day celebrating all kinds of different dads. With bouncy rhyming text, this story is great for reading aloud with children aged 3 years and up and perfect for encouraging them to join in the story.
One morning, Anna cried, "Whoopee!
Today's your special day!"
She gave her dad a card and said,
"Come on – it's time to play!"
Poor Anna's dad has to go to work on his birthday, so she decides to throw him a surprise party and teach him how to really have some fun. She invites her friends and all of their dads to join in the best birthday party of all time, full of games, cake, fancy-dress costumes and awkward dad dancing!
Can her dad learn to embrace his inner child and have some fun?

It's Anna's dads birthday but he has to work. Anna believes he should be having fun on his special dad instead so she gets her friends together and they make plans to throw a party for her dad when he gets home.
From baking a cake to writing out the invitations the friends all set to work. Once dad was home the party began but with all the young children's games and having to dress up the dads start to behave just like they are young children again, and they seem to be enjoying their freedom.
This is one of those times when I'm reviewing a book where I have to take my adult head off and replace it with one a few decades younger. You see I hate parties, I also have a husband who absolutely detests birthday parties if our sons ever did this I think he would just leave for the evening, so reviewing this book was a little tricky as an adult. However, thinking as a child, this book is very enjoyable and lots of fun.
Kids will get to read about dads behaving like children. Seeing them getting dressed up in funny costumes and playing games like Pass the Parcel and Musical Chairs. There are two sections that did make me proper laugh and that was when Anna told the dads they didn't need their phones as they were going to have fun and also the dad dancing which the children turned into a competition just to make them stop.
The illustrations are bright, colourful and eye-catching. They are full-page too and really make the book stand out.
I am sure that little children will adore this book and I can see it working as a class read or as a bedtime story. Just expect children to want this story to be read to them over and over again!
Book Reviewer – Stacey
---
Purchase online from:
---
About the Authors

Adam Guillain is a children's writer, musician and a co-founder of Storytelling Schools. Charlotte Guillain taught English to air traffic controllers and nurses before deciding a career in publishing would endanger fewer lives.
Since meeting in Zanzibar while working with Voluntary Services Overseas, they have written several picture books together including Supermarket Gremlins, School for Dads and the George's Amazing Adventures series.




---
What did you think of the book? Share your thoughts in the comment section below!
---
The above links are affiliate links. I receive a very small percentage from each item you purchase via these link, which is at no extra cost to you. If you are thinking about purchasing the book, please think about using one of the links. All money received goes back into the blog and helps to keep it running. Thank you.