The Wrong End of the Stick by Philip Ardagh – Book Review
The Wrong End of the Stick by Philip Ardagh – Book Review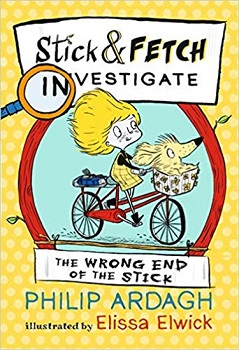 The Wrong End of the Stick
Stick and Fetch Investigate Book Two
Author – Philip Ardagh
Publisher – Walker Books
Pages – 144
Released – 2nd May 2019
ISBN-13 – 978-1406376500
Format – paperback
Reviewer – Stacey
Rating – 5 Stars
I received a free copy of this book.
This post contains affiliate links.
In this hilarious sequel to the hugely popular Barking Up the Wrong Tree, Sally Stick and her shaggy best friend Fetch discover plenty more mysteries to solve.
Like, Is there a beaver loose in the town? Who is the handbag thief? And, most importantly, Why does Uncle Bob's house always smell of biscuits?
Somehow, despite the accidents, misunderstandings and general confusion that dog the hapless pair wherever they go, they always get results. And they have a lot of fun along the way!

'The Wrong End of the Stick' is the second book in the Stick and Fetch Investigates series, a children's detective series featuring Sally Stick and her dog Fetch. The first book 'Barking up the Wrong Tree' I reviewed back in March 2018 and awarded it five stars, so I was eager to see what new cases the duo would be working on.
Just like in the first book there are multiple cases in the book
– Glass Half Full
– A Bit of Beaver Bother
– Out of the Bag
– Bed Time
In Glass Half Full the duo are staying with Uncle Bob whilst Sally's Granny, who she lives with, is in hospital having an operation. Her uncle needs the help of Stick and Fetch as he has misplaced his glasses but can the pair find them and claim the reward that Uncle Bob is offering?
In A Bit of Beaver Bother, Stick and Fetch are still living with Uncle Bob. After reading a book about animals, including beavers they come across some items that must have been destroyed by a beaver, but where is it and how can they stop it ruining more items?
Out of the Bag sees the duo searching for a bag snatcher in the local park near her Uncle Bob's house but can they work out who the bag snatcher is and bring him to justice?
The last case, Bed Time has the pair searching for clues as to why someone is coming to Uncle Bob's house to 'dig the beds'.
Throughout these four cases Stick and Fetch use their detective skills to solve problems and also help catch criminals – And Beavers!! There are plenty of laugh-out-loud moments as the pair might not always understand the problems they are solving fully but they try their best.
This is an amazing book and I can see this series being a bit hit with kids. The books are quite small at just 18cms so perfect for little hands and there are amazing illustrations on every page that bring these two detectives to life, they are also extremely amusing too.
I do hope this is a series that carries on for a long time to come as these two characters work perfectly together and I can't wait to see what cases they have to solve next.
Book Reviewer – Stacey
---
Purchase online from:
---
About the Author

Roald Dahl Funny Prize-winning author Philip Ardagh is the author of The Grunts and National Trust: The Secret Diary series. He is probably best known for his Grubtown Tales, but he is author of over 100 books.
He is a "regular irregular" reviewer of children's books for The Guardian, and is currently developing a series for television. Philip Ardagh is two metres tall with a ridiculously big, bushy beard and size sixteen feet, making him an instantly recognisable figure at literary festivals around the world.



---
What did you think of the book? Share your thoughts in the comment section below!
---
The above links are affiliate links. I receive a very small percentage from each item you purchase via these link, which is at no extra cost to you. If you are thinking about purchasing the book, please think about using one of the links. All money received goes back into the blog and helps to keep it running. Thank you.