Lil' Muffin Drops the Mic by Romesh Ranganathan – Book Review
Lil' Muffin Drops the Mic by Romesh Ranganathan – Book Review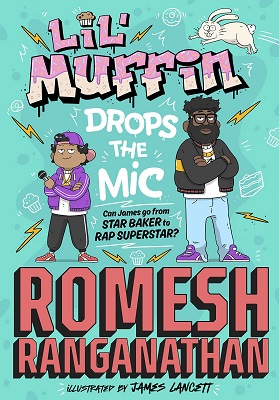 Lil' Muffin Drops the Mic
Author – Romesh Ranganathan
Illustrator – James Lancett
Publisher – Puffin
Release Date – 20th July 2023
Pages – 256
ISBN 13 – 978-0241647646
Format – ebook, paperback, hardcover, audio
Star Rating – 4
I received a free copy of this book.
This post contains affiliate links.

Synopsis
Ever since his dad left, James can't seem to stop worrying about everything. His favourite hobby, baking, is a fun (and delicious!) distraction, but no matter how many AMAZING brownies he makes, James still feels like there's a missing ingredient in his life . . .
Until he discovers rapping, and he's COMPLETELY hooked. It's not long before James starts writing his own raps about everything – from music and cakes to his giant pet rabbit, Graham!
So when he hears that grime artist star Brukka is on the hunt for young talent, James starts to wonder: could this be his chance to share his MUFFINS, his MUSIC, and maybe even his feelings with the whole school? If he could only find the confidence . . .
Schoolboy James Perera loves baking, except for his 'Doom Dessert', Bread and Butter Pudding Souffle which he loves eating but can't for the life of him recreate, although it may have something to do with him only trying to bake it when he's angry or upset, which is a lot recently.
His dad has upped and left the family alone and the school bully, Alfie Adams has it in for him. He is called 'Scabby Bake' by his peers who refuse to eat his cakes on the say-so of Alfie and now he's discovered rapping but the words just won't come out when he rap battles.
Grime artist Brukka (who looks a lot like Romesh in the illustrations) is looking for young talent and James thinks that this could be his big break, but with everything going on he isn't sure he has the confidence to make it.
Lil' Muffin Drops the Mic is the first children's book by comedian Romesh Ranganathan. The plot mainly revolves around life at school and young James. It is a quick read and has some amazing black-and-white illustrations throughout.
I can see children enjoying the story given the setting and how big rap and grime music is at the moment. The writing could have been a little more fleshed out but then this is a children's book and the basic writing style will probably appeal to its intended audience and help them to connect with the book.
Overall, the story is bang up to date with references to social media and text snippets. It has plenty of humour within the pages, including the lyrics to some very strange raps, such as one about a teddy bear, and it shows that you have to believe in yourself.
---
Purchase Online:
Romesh Ranganathan

Romesh Ranganathan is a comedian, actor and writer. A former maths teacher, he is now known for his award-winning series The Misadventures of Romesh Ranganathan, his weekly topical show The Ranganation, his sitcom The Reluctant Landlord and the BAFTA nominated Asian Provocateur, which features Romesh's mum.
Amongst all of this, he still manages to squeeze in time to record his award-winning podcast 'Hip Hop Saved My Life', to write his regular Midlife Crisis column for the Guardian, and to pen his bestselling autobiography, Straight Outta Crawley. DJ Muffin drops the Mic is his first children's book and gave him an excuse to write about two of his favourite things – hip hop and cake.
Author Links:
---
The above links are affiliate links. I receive a very small percentage from each item you purchase via these links, which is at no extra cost to you. If you are thinking about purchasing the book, please think about using one of the links. All money received goes back into the blog and helps to keep it running. Thank you.