Sarah's Shadow by Nick Jones – Book Review
Sarah's Shadow by Nick Jones – Book Review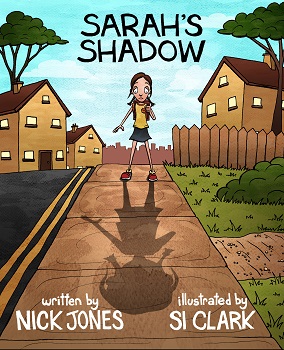 Sarah's Shadow
Author – Nick Jones
Publisher – Full Media
Pages – 32
Released – 14th December 2017
ISBN-13 – 978-0993079498
Format – ebook, paperback
Reviewer – Stacey
Rating – 4 Stars
I received a free copy of this book
Post contains affiliate links.
If you could change something about yourself, would you do it? When Sarah Simpkins is teased about her shadow in the school playground, she finds herself wishing she didn't have one. That night she has the chance to make the wish come true. But will losing her shadow really make her happy?

One sunny afternoon Sarah is happily playing with her friends in the school playground when another girl comes over and starts making fun of her shadow. All the other children start laughing at her shadow, making Sarah really upset.
That night Sarah sees a shooting star and her mum tells her she should make a wish. Sarah wishes that she didn't have a shadow and her wish comes true, her shadow walks away. However, she was going to summer camp the next day for three nights and Sarah suddenly thought what the children would say when they realised she didn't have a shadow. She stayed behind the group of children when they went for a walk and collected firewood on her own.
One night the children were in the tent making hand puppets with a torch. Sarah got all upset knowing that she couldn't join in as she no longer had a shadow. All she now wanted was her shadow back.
Sarah's Shadow is a beautifully illustrated children's book. The drawings perfectly capture the emotions that Sarah is going through. I love how her shadow has been given a life of its own.
The book is about Sarah feeling insecure about herself after someone makes fun of her, but ultimately wishing away the part that was making her feel insecure didn't make her feel better about herself, it made her feel worse as she realised that her shadow was a part of her and she needed it.
Sarah's Shadow is a lovely book with a great message about how even the simplest of words can make someone upset, and that you should learn to embrace yourself and love yourself, rather than wishing you could change something, as you may end up regretting your choice.
Reviewed by Stacey
---
Purchase online from:
---
About the Author

Nick Jones is an author based in Cheshire, UK, but originally from Bristol. He has written a series of joke books and an illustrated children's book. His first joke book, Gagged and Bound, was written during the summer of 2014 and was published by Full Media Ltd later in the year to critical acclaim, garnering positive reviews from numerous book review websites such as Reader's Favorite and The Bookbag.
A follow-up, Gagged and Bound 2, was released a year later and received a similarly positive response, and in 2017 Nick returned with the third instalment. Nick returned with a very different book, Sarah's Shadow, in December 2017. He has several new books in the pipeline including two picture books and a children's joke book.




---