What Happened to Us? by Faith Hogan – Book Review
What Happened to Us? by Faith Hogan – Book Review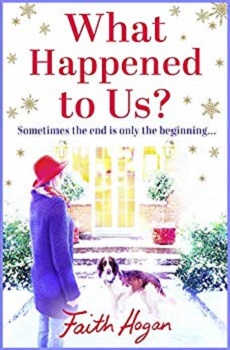 What Happened to Us?
Author – Faith Hogan
Publisher – Aria
Pages – 444
Released – 2nd October 2018
ISBN-13 – 978-1788548588
Format – ebook, paperback
Reviewer – Stacey
Rating – 4 Stars
I received a free copy of this book
Post contains affiliate links.
Sometimes the end is only the beginning…
After ten years together, Carrie Nolan is devastated when she's dumped by her hot-shot chef boyfriend, Kevin Mulvey without even a backwards glance! But on reflection, she has sacrificed her own long-term happiness by pandering to his excessive ego in their successful Dublin restaurant (and out of it) – but not anymore!
While Kevin is 'living the dream' with his beautiful new Brazilian girlfriend, Carrie seeks solace from a circle of mismatched strangers who need her as much as she needs them.
With Christmas just around the corner, all is not quite as it seems and a catastrophic sequence of events leads to the unthinkable.
How far do you need to fall before you learn the true value of family and friends? And is it ever too late to start again…

Carrie Nolan is left feeling alone and devastated when her boyfriend Kevin who she has been dating and living with for ten-years announces that he is leaving her. The two run a very successful restaurant together, The Sea Pear, and Kevin's choice of new woman is the restaurants newest waitress, twenty-year-old glamorous Valentina with her perfect body, flowing hair and big boobs. With Kevin being in his forties and not quite so glamorous, is it really love for Valentina?
Carrie must now learn to be on her own. She is hurt and the situation isn't helped by the fact that all three have to continue working together. When stranger Luke comes into her life, as well as little dog Teddy, could her life be heading in a different direction?
What Happened to Us? is a very sweet, easy read. The characters are all enjoyable to spend your time with, well not so much Valentina and Kevin, part of me was questioning why Carrie had ever stayed with the weasel of a man who couldn't even buy his own socks!
Although the book begins with a sad time in Carrie's life, it is about her coming to terms with what has happened and how she moves on, as well as some realisations along the way for other characters.
The book is told in the third person and from numerous points of view. Although not a point of view per se, I enjoyed Kevin's friend Jim and his wise words, though they often were met with deaf ears.
As the book heads towards Christmas you can tell that something big is building up and I wasn't disappointed. This is the first book I have read by Faith Hogan, it most certainly won't be my last. I love how she manages to get you emotionally involved in the story and her scene setting is just amazing. I certainly felt like I was in cold, wet Dublin most of the time. Hot Chocolate and cosy blankets were needed!!
Reviewed by Stacey
---
Purchase online from:
---
About the Author

Faith was born in Ireland and currently lives there with her husband, four children and two fussy cats. She gained an Honors Degree in English Literature and Psychology from Dublin City University and a Postgraduate from University College, Galway.
She was a winner in the 2014 Irish Writers Centre Novel Fair- an international competition for emerging writers. When she's not writing, she's an enthusiastic dog walker and reluctant jogger.





---