The Perfect Girlfriend by Karen Hamilton – Book Review
The Perfect Girlfriend by Karen Hamilton – Book Review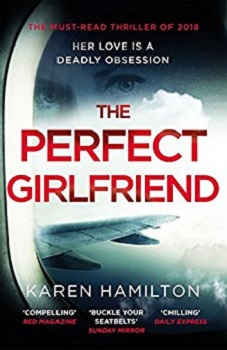 The Perfect Girlfriend
Author – Karen Hamilton
Publisher – Wildfire
Pages – 368
Released – 22nd March 2018
ISBN-13 – 978-1472244253
Format – ebook, paperback, hardcover, audio
Reviewer – Cara
Rating – 4 Stars
I received a free copy of this book
Post contains affiliate links.
Juliette loves Nate. She will follow him anywhere. She's even become a flight attendant for his airline, so she can keep a closer eye on him.
They are meant to be. The fact that Nate broke up with her six months ago means nothing. Because Juliette has a plan to win him back.
She is the perfect girlfriend. And she'll make sure no one stops her from getting exactly what she wants.
True love hurts, but Juliette knows it's worth all the pain…

The Perfect Girlfriend is about a young woman named Juliette who is in the process of turning her life around; she has the perfect boyfriend, the perfect house and all round perfect future laid out. The only problem is that it's all in her head. The house she dreams of is not hers and the boyfriend she is pining for is an ex who has no idea of her plans but to Juliette this is only a minor setback.
This story follows her on her journey as she tries to claw back the life she once thought she had and which in her mind she rightfully deserves.
The book is written from the eyes of Juliette and her interpretation of events. Usually with stories such as these we see it from the victims view and can't fathom what another must be thinking to act the way they do. In this case we get an insight into how someone with a dangerous obsession makes an outrageous act seem perfectly logical. More than once whilst reading I had to stop and think that, actually, her behaviour is not normal.
I thoroughly enjoyed the book and could not put it down. Unfortunately, I was not left as satisfied with the ending as I would have liked but I think only a small majority of people will agree with me on this.
Reviewed by Cara
---
Purchase online from:
---
About the Author

Karen Hamilton spent her childhood in Angola, Zimbabwe, Belgium and Italy and worked as a flight attendant for many years. Karen is a recent graduate of the Faber Academy, and having now put down roots in Hampshire to raise her young family with her husband, she satisfies her wanderlust by exploring the world through her writing. THE PERFECT GIRLFRIEND is her first novel.


---