The Toy Maker by Melanie Flynn – Book Review
The Toy Maker by Melanie Flynn – Book Review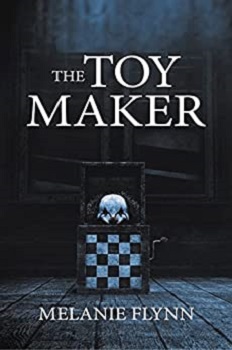 The Toy Maker
Author – Melanie Flynn
Publisher – Tellwell Talent
Release Date – 24th July 2022
Pages – 233
ISBN 13 – 978-0228858621
Format – ebook, paperback
Star Rating – 4.5
I received a free copy of this book.
This post contains affiliate links.

Synopsis
A missing woman.
A serial killer on the loose.
A smart-mouthed private investigator on the case.
What could go wrong?
Rylee Scott is a New York private investigator with a secret: she's psychic and allergic to her cat. But only one of these secrets has the power to break her. When she's hired to find a missing woman, she finds herself racing against the clock to save her before she becomes the next victim of a prolific serial killer, the Toy Maker, who turns his victims into beautiful and horrific life-size versions of classic toys. After years of living under the radar, Rylee will have to enlist the help of the NYPD if she has any hope of bringing the woman home safe.
Calum Reese is an NYPD detective with a southern accent, a chip on his shoulder and a secret of his own. On the hunt for the Toy Maker, he finds himself working with a certain private investigator who knows things she shouldn't and refuses to play by his rules. Can they put aside their differences to catch the killer before more bodies drop? Or will they be drowning in corpses before long?
There have been stories about psychic detectives, but none I'm familiar with are quite like The Toy Maker. The detective in this story is New York City private investigator Rylee "Scotty" Scott, owner of Great Scott Investigations. Rylee isn't your typical psychic who can (or claims to) see the future. Instead, she's more of an empath, able to forge a connection with people, to be inside their heads. Sometimes this happens when she touches a person, sometimes, it's spontaneous, but it isn't something she can force on her own.
Most of Rylee's investigations involve adulterous spouses. But Bobby Stephens brings her a different type of case: find his missing sister, Brianna. Through her unique abilities, Rylee soon learns Brianna is in the clutches of a diabolical serial killer called the Toy Maker. Sensing she might need official help, she takes the information she's gathered to the police.
NYPD assigns detective Callum Reese to the case. A cynical loner, Reese carries a personal secret that drives his often self-destructive behavior. The detective isn't thrilled about working with Rylee, and she's not exactly happy to be working with him. They do manage to work together, though, in a race against time to catch this serial killer before another body drops.
Together, they rescue Brianna Stephens and collar the serial killer.
Or do they? This murderer may have undiscovered accomplices.
The Toy Maker is an elaborate story with many layers. Each secret Scotty and Reese uncover leads to another puzzle. Reese's old-fashioned detective work complements Rylee's psychic abilities, which are crucial to a successful conclusion to their case.
Using Rylee's psychic gifts as a "magic bullet" to overcome obstacles would be easy. However, this is not the case since her insight comes with limitations. Some readers might consider the psychic angle hard to believe. But the author does an excellent job of making her gift seem plausible.
I liked The Toy Maker. I found it interesting, entertaining, and gripping enough to keep reading. On the other hand, some of the characters' attributes can be extreme. For instance, Reese's adamant refusal to forge meaningful interpersonal relationships is a severe reaction to the secret he holds deep in his soul. Another example is Brady, Rylee's gay office manager, whose antics are sometimes stereotypical. And Rylee often obsesses over the potential consequences of anyone learning she has special powers.
For me, the book's ambiguous ending was a let down. After some false starts and missed opportunities, Reese has the Toy Maker in cuffs in an interview room. Yet there is evidence that he has a yet-unidentified helper. Is this a teaser for another book? Maybe, but I found it an unsatisfactory ending.
Readers who appreciate mysteries and police procedurals will enjoy The Toy Maker.
---
Purchase Online:
Melanie Flynn

Melanie Flynn was born and raised in Gander, Newfoundland and Labrador, Canada. She is a graduate of Memorial University of Newfoundland and Labrador where she got her Bachelor of Arts majoring in English and minoring in Psychology. She went on to graduate from the University of New Brunswick Law School with a Juris Doctor degree.
Currently she is a practicing lawyer and small business owner. She co-hosts a variety podcast called Inconsistently Consistent. She is an animal lover and has two cats and a German Shepherd.
Author Links:
---
The above links are affiliate links. I receive a very small percentage from each item you purchase via these links, which is at no extra cost to you. If you are thinking about purchasing the book, please think about using one of the links. All money received goes back into the blog and helps to keep it running. Thank you.