The Fairy Lights by Leilanie Stewart – Book Review
The Fairy Lights by Leilanie Stewart – Book Review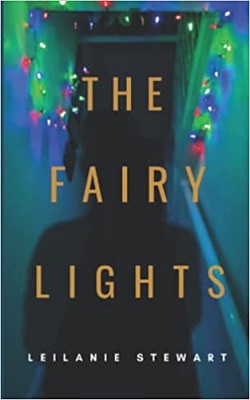 The Fairy Lights
The ghost of Christmas that Never Was
Author – Leilanie Stewart
Release Date – 2nd November 2022
Pages – 233
ISBN 13 – 978-1739952358
Format – ebook, paperback
Star Rating – 4
I received a free copy of this book.
This post contains affiliate links.

Synopsis
When Aisling moves into an old, Edwardian house in the university area of Stranmillis, Belfast, she soon discovers that her student digs are haunted. The house, bought by her grandfather decades ago, is also home to a spirit known by the nickname Jimbo.
As yuletide approaches, and Aisling's Christmas fairy lights attract mischief from Jimbo, she seeks to find out more about the restless entity. With the help of a local psychic and friends from her History with Irish course, Aisling uncovers dark, buried truths. What is the connection with Friar's Bush Graveyard just around the corner? What does Jimbo's dusty book of the Oak King and Holly King, hidden in the attic, have to reveal? What will Aisling's journey into the darkness of the spirit world reveal about Jimbo – and herself?
'The Fairy Lights' is the latest novel from the pen of Irish-based author, Leilanie Stewart. The book is written in the third person and the past tense from the perspective of Aisling, a nineteen year old student at Queen's University in Belfast. Aisling lives in a small Edwardian terraced house owned by her family whilst she studies and strange things start to happen after she decorates her home for Christmas. She has heard stories handed down through her family about Jimbo, a spirit who haunts the house he once owned and she very quickly becomes convinced he is trying to communicate with her. She decided to reach out to him and Jimbo then appears in the form of a dark shadow.
After he leaves clues for her, Aisling manages to transport herself into Jimbo's world with the aid of a couple of friends and a medium. Aisling must face the malevolent Cliona who is holding Jimbo captive in the Sidhe Realm. Whilst she explores other planes of existence, Aisling learns a lot about her background and is forced to face the truth about herself.
Leilanie Stewart is clearly very knowledgeable regarding Irish mythology and folklore and has cleverly woven a tale where fairies and sea monsters fit perfectly into her narrative. She creates a wonderfully dark atmosphere surrounding the old churchyard, giving us a sense of foreboding when Aisling is drawn to the place.
The story zips along at pace and for well over half the book, I was able to suspend reality and appreciate the ingenuity of the author as she found an imaginative way to allowed Aisling to skip between existences.
Then I felt the plot shift from being an intriguing ghost story into more of a magical fantasy. In fact, I was very pleased when Aisling recapped her experiences for Jimbo because by then, I was rather confused. There is a twist I wasn't expecting which is an interesting variation on the good versus evil theme.
Whilst the ending wasn't as snappy as I'd hoped, it was still a great idea for a story and I'm sure fans of this genre will enjoy it. I award 4 stars.
---
Purchase Online:
Leilanie Stewart

Leilanie Stewart is an author and poet from Belfast, Northern Ireland. Her writing confronts the nature of self; her novels feature main characters on a dark psychological journey who have a crisis of identity, and create a new sense of being. She began writing for publication while working as an English teacher in Japan, a career pathway that has influenced themes in her writing. Her former career as an Archaeologist has also inspired her writing and she has incorporated elements of archaeology and mythology into both her fiction and poetry.
In addition to promoting her own work, Leilanie runs Bindweed Magazine, a creative writing literary journal, with her writer husband, Joseph Robert. Aside from publishing pursuits, Leilanie enjoys spending time with her husband and their lively literary lad, a voracious reader of sea monster books.
Author Links:
---
The above links are affiliate links. I receive a very small percentage from each item you purchase via these links, which is at no extra cost to you. If you are thinking about purchasing the book, please think about using one of the links. All money received goes back into the blog and helps to keep it running. Thank you.