The Incendiaries by R.O. Kwon – Book Review
The Incendiaries by R.O. Kwon – Book Review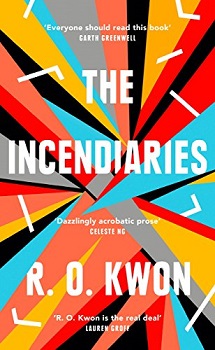 The Incendiaries
Author – R.O. Kwon
Publisher – Virago
Pages – 224
Released – 6th September 2018
ISBN-13 – 978-0349011875
Format – ebook, paperback, hardcover, audio
Reviewer – Stacey
Rating – 4 Stars
I received a free copy of this book
Post contains affiliate links.
A powerful, darkly glittering novel about violence, love, faith, and loss, as a young Korean American woman at an elite American university is drawn into acts of domestic terrorism by a cult tied to North Korea.
Phoebe Lin and Will Kendall meet their first month at prestigious Edwards University. Phoebe is a glamorous girl who doesn't tell anyone she blames herself for her mother's recent death. Will is a misfit scholarship boy who transfers to Edwards from Bible college, waiting tables to get by. What he knows for sure is that he loves Phoebe.
Grieving and guilt-ridden, Phoebe is increasingly drawn into a religious group–a secretive extremist cult–founded by a charismatic former student, John Leal. He has an enigmatic past that involves North Korea and Phoebe's Korean American family. Meanwhile, Will struggles to confront the fundamentalism he's tried to escape, and the obsession consuming the one he loves.
When the group bombs several buildings in the name of faith, killing five people, Phoebe disappears. Will devotes himself to finding her, tilting into obsession himself, seeking answers to what happened to Phoebe and if she could have been responsible for this violent act.

The Incendiaries follows the lives of Will Kendall, Phoebe Lin, and John Leal. The book is written in the third person and in alternating short chapters. Will is an American student studying at Edwards University in New York, he has recently transferred there after dropping out from his Bible College in California after losing his faith.
Not long after transferring he meets Phoebe who is also a student there. She is originally from South Korea but moved to America with her mum when she was just a baby after her mum fled her husband and his overbearing family. She too is struggling with her faith, especially after her mum dies in a car crash.
John Leal is the leader of a religious cult called Jejah. He's been through some harrowing experiences in China and South Korea and helped people who fled from North Korea. He was also held as a prisoner in North Korea for a while too. He has some radical ideas that he pushes onto his followers.
Phoebe finds herself being drawn more and more into the cult and what they stand for. She is grasping onto some kind of religious faith but doesn't seem to realise the damage that this cult is doing. Will is obsessed with Phoebe and whilst he can see what is happening he won't walk away from Phoebe. Even when people start dying from the actions of the cult.
I have to say this is one of the hardest books I have ever read, and one of the hardest reviews I've written too. I do feel though that it might be down to my own faith, of which I have none. I'm not religious, never have been religious, so I don't know what it is like to lose your faith and to question everything you have ever been taught regarding it. To suddenly believe that your whole life has been some kind of lie.
I can understand Phoebe being pulled into a movement where the followers and especially the leader is showing you love like you've never known it and that they seem to know you better than you know yourself. I'm no expert on cults or religious movements but did wonder if someone would become so fully involved so quickly changing from someone who loves to party to a fully fledged fanatic giving all her time to the movement.
The book makes you look at the world around you. It certainly opened my eyes and made me feel a little uncomfortable too. The complex plot looks at how faith and the loss of it can affect a person's well-being, both mentally and physically. If you are religious then this book may speak to you more than it did to me, especially if you have ever questioned your faith.
There's no doubt that this is a powerful book and it's hard to believe that it has been written by a debut novelist. This is a book that will get people talking and would be perfect for books clubs as the storyline gives you lots to analyse.
Reviewed by Stacey
---
Purchase online from:
---
About the Author

R.O. Kwon's first novel, The Incendiaries, is published by Riverhead (U.S.) and forthcoming from Virago (U.K.) in September 2018. She is a National Endowment for the Arts Literature Fellow. Her writing has appeared in The Guardian, Vice, BuzzFeed, Noon, Time, Electric Literature, Playboy, San Francisco Chronicle, and elsewhere.
She has received awards and fellowships from Yaddo, MacDowell, the Bread Loaf Writers' Conference, the Sewanee Writers' Conference, Omi International, and the Norman Mailer Writers' Colony. Born in South Korea, she's mostly lived in the United States.




---