Celebrity Chef Zombie Apocalypse by Jack D. McLean – Book Review
Celebrity Chef Zombie Apocalypse by Jack D. McLean – Book Review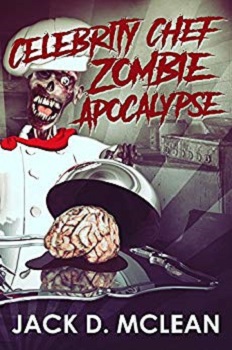 Celebrity Chef Zombie Apocalypse
Zomtastic Book One
Author – Jack D. McLean
Pages – 318
Released – 16th July 2018
ISBN-13 – 978-1983303630
Format – ebook, paperback
Reviewer – Nia
Rating – 3 Stars
I received a free copy of this book
Post contains affiliate links.
Floyd Rampant is ready to cook – and humanity is on the menu.
After the celebrity chef rises from his grave, he aims to create a zombie army of chefs who will rule the world, using human species as the main ingredient in their cordon bleu meals.
Can Floyd be stopped before it's too late, or will we all end up roasted, then drizzled in a rich chasseur sauce?
Part horror story, part social satire, this novel gives you a fast-paced entrée of dread, followed by a main course of panic and a dessert of distress.

An ambitious young TV assistant needs to find a way to bring new life to an old TV show for a deceased celebrity chef. One thing leads to another and now Floyd Rampant, chef extraordinaire, is back in the kitchen with a taste for human flesh.
Celebrity Chef Zombie Apocalypse firmly fits in the 'comedy horror' category, so be prepared for some graphic gore and violence as well as surreal humour and some political satire. The premise is brilliant, recruiting celebrity chefs to become part of his exclusive zombie uprising – it's original and the kind of strange silliness that I can really get behind.
I'm happy to accept that a lot of the satire in this book went over my head – like the odd obsession with Huddersfield in the last part of the book and the government's neglect of the North of England, I couldn't get my head around the book jumping from zombie apocalypse to political commentary when I was really getting into it.
One thing that I did take issue with was sexual violence being used for cheap laughs – the author doesn't go into any details for all but one of them, but does make a point of saying how sex starved the zombies are many times, without explaining the whys of it all. I'm a fan of the horror genre and can happily read the darkest of subject matter as long as it's intended to be horror rather than funny. I just found it a bit distasteful and unnecessary in the grand scheme of things.
The writing style is otherwise very well paced and uses a dry humour, the chapters alternating between the perspectives of different characters. The author uses a lot of different characters to give a wide scope of the zombie apocalypse but Rampant and his zombie cat really are the stars of the show.
Reviewed by Nia
---
Purchase online from:
---
About the Author

I write as Jack D McLean and Jack Strange. Most of my books were originally written as Jack Strange then re-released as Jack D McLean novels.
I've had a very varied career.
Its included working in a morgue, digging holes for a living, shifting heavy things onto trucks and off them again, selling advertising space, writing press-releases, and being a Solicitor of the Supreme Court (in America you'd call that being a lawyer). I've done other stuff too.
My favourite authors include Russell H. Greenan, Jerzy Kosinski, Jim Thompson, and Simon Kernick (and a great many more – far too many to mention).
I enjoy parties and I keep myself fit. I'm married with two adult daughters.



---