Winterset Hollow by Jonathan Edward Durham – Book Review
Winterset Hollow by Jonathan Edward Durham – Book Review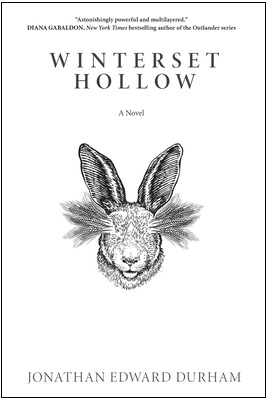 Winterset Hollow
Author – Jonathan Edward Durham
Publisher – Credo House Publishers
Pages – 286
Released – 1st September 2021
ISBN-13 – 978-1625862082
Format – ebook, paperback
Rating – 4.5 Stars
I received a free copy of this book.
This post contains affiliate links.


Synopsis
Everyone has wanted their favorite book to be real, if only for a moment. Everyone has wished to meet their favorite characters, if only for a day. But be careful in that wish, for even a history laid in ink can be repaid in flesh and blood, and reality is far deadlier than fiction . . . especially on Addington Isle.
Winterset Hollow follows a group of friends to the place that inspired their favorite book—a timeless tale about a tribe of animals preparing for their yearly end-of-summer festival. But after a series of shocking discoveries, they find that much of what the world believes to be fiction is actually fact, and that the truth behind their beloved story is darker and more dangerous than they ever imagined. It's Barley Day . . . and you're invited to the hunt.
Winterset Hollow is as thrilling as it is terrifying and as smart as it is surprising. A uniquely original story filled with properly unexpected twists and turns, Winterset Hollow delivers complex, indelible characters and pulse- pounding action as it storms toward an unforgettable climax that will leave you reeling. How do you celebrate Barley Day? You run, friend. You run.
A novel as beguiling as it is engrossing, Winterset Hollow is an immersive, evocative tale of revenge, trauma, and what happens when predators become prey.
Winterset Hollow begins with three close friends on a small road trip to visit an island that inspired their favourite childhood book. While there, fiction soon blends with reality in ways that are terrifying and grotesque. The three young people are thrust into a situation where they must run for their lives. It's best to enter into this novel knowing no more regarding the plot, as the strange turn of events is part of the fun.
In terms of characters, Eamon, Caroline, and Mark have instant chemistry. Their dialogue is realistic, and their personalities are distinct and relatable. Eamon and Caroline share a love of the book that brings them to the island, and Mark is just along for the ride. I cared for all three. The side characters were hard to distinguish, but they also only played a small part. On the other hand, the antagonists are utterly fantastic in their depravity, sorrow, and compulsion to enact revenge at any cost.
The action/horror scenes are well-described and the pacing is steady. The tension builds and ebbs in a way that keeps you reading well after you intended to set it down for the night. There is a mystery in the background that you are almost unaware of until near the end that helps explain certain aspects of Eamon's character.
The prose is absorbing because it's very elegiac and flowery at times, which contrasts in an exciting way with the visceral nature of the violence in the story. For example, passages like this are common: "It was a strange and weighty affectation as if they were eating their last meal before heading off to war and they were still hiding their conscriptions from their families."
This is novel that sticks with you. It makes you wonder and contemplate even days after the final page. There are unanswered questions, but in a way that feels intentional. Both a slasher and dark fantasy, Winterset Hollow was unlike anything I've ever read.
Purchase Online From:
---
What did you think of 'Winterset Hollow'? Share your thoughts in the comment section below!
---
The above links are affiliate links. I receive a very small percentage from each item you purchase via these links, which is at no extra cost to you. If you are thinking about purchasing the book, please think about using one of the links. All money received goes back into the blog and helps to keep it running. Thank you.
Like us on Facebook – Tweet us on Twitter – Pin us on Pinterest – Join us on Instagram