Roxy by Neal & Jarrod Shusterman – Book Review
Roxy by Neal & Jarrod Shusterman – Book Review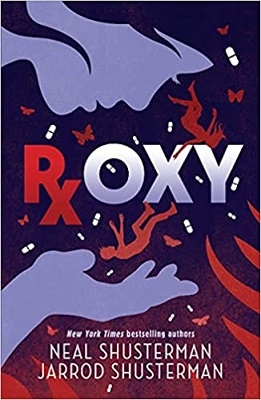 Roxy
Author – Neal & Jarrod Shusterman
Publisher – Walker Books
Pages – 400
Released – 11th November 2021
ISBN-13 – 978-1406392128
Format – ebook, paperback, audio
Rating – 4 Stars
I received a free copy of this book.
This post contains affiliate links.


Synopsis
Above our world is a toxic wonderland where the party has raged for centuries.
Humans know the partygoers simply as "narcotics", "opioids", "drugs". But here they are malevolent gods, toying with the fates of mortals. Roxy and Addison have made a wager to see who can be lethal the quickest.
Isaac and Ivy Ramey are their targets. Ivy is understimulated and overmedicated. Isaac is desperate to recover from a sports injury that jeopardizes his chance of a scholarship. This is the start of a race to the bottom that will determine life and death. One Ramey will land on their feet. The other will be lost to the Party.
The only question is… Which one?
Roxy is a very unusual book in that it is mainly about four characters, Isaac and Ivy who are human teenage siblings, both of whom are taking medication for very different reasons. The other two characters are the drugs that they take, Roxy (oxycodone – Isaac's pain relief) and Addison (Adderall – Ivy's medication to treat her ADHD).
The siblings through no fault of their own find themselves in need of the medications more and more to just get through the day and become addicted.
Roxy and Addison are all too happy to see them addicted, that is their job. However, their job is also to hold their human addicted long enough that they then need to move onto the more lethal drugs, where the person will eventually be taken to the VIP room – When the person dies. However, the pair have a bet to see if they can make their human overdose and we know from the opening scene that one of the siblings dies, we just don't know which.
The book had an air of mythology about it and it was intriguing to witness drugs being given a voice and a 'human' side. The people taking the drugs interact with the drug characters as if they were normal people just having a conversation. The book is certainly different.
It took a little getting used to at the beginning but once I had gotten my head around the behaviours and actions of the drug characters everything fell into place and the plot flowed. Alongside the main plot are interludes from other drug characters as they show you what they do and how they make their humans feel. I particularly liked these sections, even if they do emphasise the opioid crisis that is sweeping the globe, though I never felt like the authors were glamorising it.
Overall, it is a fascinating and very different book. It is also a book that will make you stop and think.
Purchase Online From:
You may also like...