Heart Note by Cassandra O'Leary – Book Review
Heart Note by Cassandra O'Leary – Book Review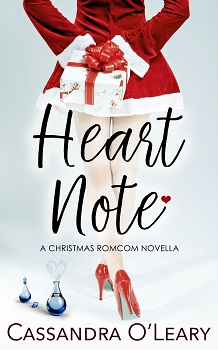 Heart Note
Spritzer Chicks Book One
Author – Cassandra O'Leary
Pages – 135
Released – 6th November 2017
Format – ebook
Reviewer – Stacey
I received a free copy of this book
Post contains affiliate links
Love is like a fine perfume. The top note draws you in, an instant attraction, but the Heart Note is the true essence. Like true love – a great perfume should be a woman's perfect match.
At least, that's what perfume counter manager, Lily Lucas, tells her customers in one of Australia's largest department stores.
It's almost Christmas, the store is bedecked with baubles and Lily has about eleventy billion gifts to wrap and sell. She and her team of spritzer chicks are glamorous, professional and hoping they don't have to wear the hideous red onesies and reindeer antlers the store manager has in mind.
The high point of Lily's work life is Christos Cyriakos, ex-cop, security guard, possible Greek god. He's a mystery box she'd love to unwrap. But can she trust him?
All Lily wants for Christmas is to kiss Christos (and more), catch a band of thieves running amok in the store, and live happily ever after. Is that too much to wish for?
Review
Lily Lucas is originally from Sydney, Australia, but moved to Melbourne for work. She is a Spritzer (perfume girl), and is the temporary manager of a perfume counter in a big department store. Just before Christmas she has the task of trying to sell the awful new scent 'Heart Note'.
On her first day she meets Christos Cyriakos, the stores new security guard and falls for him, literally. After that first day she can't take her eyes off him, and it looks like Lily's luck might just be in. But is Christos really who she thinks he is?
Heart Note is a short novella of only 135 pages. I read it in once sitting, and whilst I enjoyed the plot, the gorgeous scenery of a glamorous department store and the interactions between the characters, I did sometimes feel like Cassandra O'Leary had tried too hard to make Lily sound amusing, which in turn often made her seem unrealistic and hyperactive.
Heart Note is fast paced, which all novellas should be in my opinion. It has romance running through its core, with an air of mystery and some added drama just to top it off.
I loved the ending and I am looking forward to reading book two to see what life has in store for Lily and Christos.
Book Reviewer – Stacey

---
About the Author

**Winner of the We Heart New Talent contest, HarperCollins UK. Nominated for BEST NEW AUTHOR in the 2016 AusRom Today Reader's Choice Awards for excellence in Australian romance fiction.**
Cassandra O'Leary is a romance and women's fiction author, communications specialist, avid reader, film and TV fangirl and admirer of pretty, shiny things.
In 2015, Cassandra won the We Heart New Talent contest run by Avon Books/HarperCollins UK. Her debut romantic comedy novel, Girl on a Plane, was published in July 2016. Cassandra was also a 2015 finalist in the Lone Star writing contest, Northwest Houston Romance Writers of America, and a 2014 finalist in the First Kiss contest, Romance Writers of Australia.
Cassandra is a mother of two gorgeous, high-energy mini ninjas and wife to a spunky superhero. Living in Melbourne, Australia, she's also travelled the world. If you want to send her to Italy or Spain on any food or wine tasting 'research' trips, that would be splendiferous. You'll find Cassandra online, drinking coffee and possibly buying shoes. Oh, yes. And writing.





---