Autumn at the Cosy Cottage Café by Rachel Griffiths – Book Review
Autumn at the Cosy Cottage Café by Rachel Griffiths – Book Review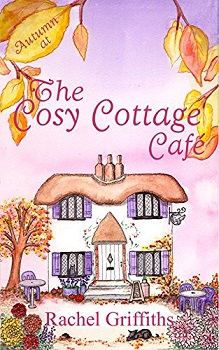 Autumn at the Cosy Cottage Café
The Cosy Cottage Cafe Book Two
Author – Rachel Griffiths
Pages – 124
Released – 18th August 2017
Format – ebook
Reviewer – Stacey
I received a free copy of this book
Post contains affiliate links
Motherhood has been one of the great blessings of Dawn Dix-Beaumont's life but with her children's growing independence, it's finally time for Dawn to return to teaching. However, Mother Nature has other ideas…
Rick Beaumont loves his family but he's busier than ever. With his high-flying career, two children and a third on the way, there's a lot to juggle.
Battling expectations, disappointments and a few surprises along the way, Dawn and Rick find their commitment to each other tested to the limit. The next steps they take will be the most important of their lives.
So when the pressure mounts and an important decision has to be made, will Dawn and Rick's marriage become stronger than ever, or will it be time to move in different directions?
Review
Autumn at the Cosy Cottage Café, is the second book in a planned series, the first being Summer at the Cosy Cottage Café, which I reviewed earlier this year. The Third, Winter at the Cosy Cottage Café, has just been released a few days ago.
In book two we peek into the lives of Dawn and Rick Beaumont-Dix and their two children, Laura and James.
Dawn is pregnant with the couples third child, but the pregnancy is taking its toll on her. She is having dizzy spells, feeling sleepy all the time and to top it all off, she is also feeling stressed about her husband, and their marriage.
Rick has been spending longer and longer hours at the office, often not returning home until late in the evening, and recently not coming home at all. Dawn suspects that he is having an affair and although she doesn't want to, she logs into his email account and is surprised at what she sees.
When Dawn collapses and needs hospital treatment, it's time for the two to make a decision about their marriage.
I love the Cosy Cottage Café Series, in fact I have book three on my Kindle waiting to be read. Each book is between 120 – 140 pages long, and delves into the lives of the villagers of Heatherlea.
In the first book we met Allie, who runs the Cosy Cottage Café and her new boyfriend Chris. It was lovely to be able to catch up with these two again, as well as some new faces.
Even-though the books are only short, Rachel Griffiths certainly packs a lot in, and with the books following on from one another, it does just feel like you are having a break in between reading a full sized novel.
Autumn at the Cosy Cottage Café made me giggle and frown throughout. I really felt sorry for Dawn, especially at the start of the book when she has to deal with the children's Guinea Pig Wallace, that has suddenly died. Wallace was the famous Instagram partner to Lulu, their pet Rabbit . I won't give the plot away, but let's just say one may of gone, but more will appear.
The characters, setting and plot are all very realistic, just your average, everyday people going about their normal lives, with a bit of drama and tension involved.
Autumn at the Cost Cottage Café is a brilliant short read, that is not only enjoyable, but engaging. A tale of relationships, families, and misunderstandings, weaved perfectly together.
Reviewed by Stacey

---
About the Author
Author. Wife. Mother. Earl Grey tea drinker. Gin enthusiast. Dog walker. Fan of the afternoon nap.