Summer at the Cosy Cottage Café by Rachel Griffiths – Book Review
Summer at the Cosy Cottage Café by Rachel Griffiths – Book Review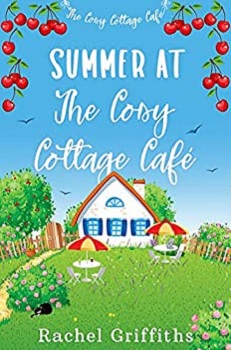 Summer at the Cosy Cottage Cafe
Author – Rachel Griffiths
Pages – 137
Release Date – 29th May 2017
Format – ebook, audio
Reviewer – Stacey
I received a free copy of this book
This post contains affiliate links

Allie Jones loves her cosy cottage café in the picturesque village of Heatherlea. She has her independence, two grown-up children and two cute cats. Life is settled and she thinks she's happy.
Author Chris Monroe has it all. Critical success, a luxurious London apartment, and the kind of jet-set lifestyle most people dream of. But something's missing.
When a family bereavement throws these two old friends together, they begin to question the true meaning of happiness.
Love is in the air, but do Allie and Chris have room in their hands-on lives for more than a summer fling?

Allie, is the owner of The Cosy Cottage Cafe, situated in the heart of Heatherlea. She decided to start her business after the tragic death of her husband Roger, in a car crash, leaving her a windowed mother of two children.
Chris, is a very successful author who has returned to Heatherlea under difficult circumstances, to bury his mother and deal with her estate.
Allie and Chris go back a long way when her, Chris, and Roger were firm friends as teenagers, but that all changed when Allie and Roger married. Chris upped and left the village, and was never seen again, until now.
With Allie catering for the wake, the two of them bump in to one another, literally! Why is a man that Allie hasn't seen for well over a decade setting her heart a flutter, and what made Chris leave in the first place? All will be revealed.
Summer at the Cosy Cottage Café, is the first book in a series of short books by author Rachel Griffiths, set in the village of Heatherlea.
The book is about second chances, and reconciliation. It's about finding out the truth about past mysteries, and Allie and Chris having the courage to move on with their lives.
It is a feel-good, chick-lit-esq book, which leaves you all warm and fussy inside.
At only 137 pages I got through it in just two sittings. The story was captivating, with down to earth, realistic characters, beautiful scenery, and an array of delicious food.
A lovely, sweet read, that has a gentle flow to it, but also has a few twists, just to keep you on your toes, along with a good portion of comedic moments.
Summer at the Cosy Cottage Café is a lovely summery book that brought a smile to my face, and will make you realise that sometimes happiness comes when you least expect it.
Book reviewed by Stacey
Purchase Links


Author. Wife. Mother. Earl Grey tea drinker. Gin enthusiast. Dog walker. Fan of the afternoon nap.
Author Links