The Chateau of Happily Ever Afters by Jaimie Admans – Book Review
The Chateau of Happily-Ever-Afters by Jaimie Admans – Book Review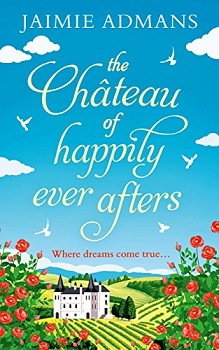 The Chateau of Happily-Ever-Afters
Author – Jaimie Admans
Publisher – HQ
Pages – 272
Release Date – 7th June 2017
Format – ebook
Reviewer – Stacey
I received a free copy of this book
This post contains affiliate links

Where dreams come true…?
Wendy Clayton stopped believing in fairy tales a long time ago. Instead, she has a 'nice' life. Nice job. Nice flat. Absolutely no men. Until her life is turned upside-down when her elderly neighbour, Eulalie, passes away and leaves her the Château of Happily Ever Afters!
But there's a catch: she must share the sprawling French castle with Eulalie's long-lost nephew, Julian. And no matter how gorgeous he is, or how easily she finds herself falling head over heels, Wendy needs to find a way to get rid of him…
Because surely happily ever afters don't happen in real life?

Wendy Clayton's, elderly neighbour, Eulalie, used to tell her stories about a Duke and his wife living in a beautiful Chateau in Normandy, 'The Chateau of Happily Ever Afters', but she always believed that's they were just that, stories. Eulalie lived in a horrible, small flat, with little money, so why would Wendy ever think that the stories were real. That was until Eulalie died, and in her will left the 19th century chateau worth just under a million euros to her.
There was just one problem, Eulalie's Great-nephew, model Julian McBeath, was also entitled to a share of the property, via a loophole in the law. Wendy took an instant dislike to him, with his six-pack, sleek hair, and sports car. She believed that he was only after one thing, money. Especially when a letter written by Eulalie stated, 'There is magic in the walls, and there is treasure too. But the chateau will show treasure to you only when you are ready to see it'.
Taking a few weeks holiday from work, Wendy set off to Normandy to see the chateau for herself, but it was not long before Julian turned up. Now the game was on as the two tried to outdo one another, hoping to make the other leave, and give up their share of the property.
The Chateau of Happily Ever Afters, is one of the funniest books that I have read this year, with the hilarious ways in which each of the main characters tries to get the other to leave, but they are both made of tougher stuff than the other one realises.
Wendy is a 'Food Ambassador' for a local supermarket – okay, she is the person who gets in the way in the aisles, trying to get you to taste that day's samples. She doesn't exactly like her job, but it pays the bills. She also likes to live within her comfort zone, so flying out to Normandy, to stay at the chateau, completely overwhelms her.
Julian is a fitness freak. He doesn't eat, but lives on protein shakes, and runs miles each day to make sure he looks good, otherwise he would lose his modelling job. But there is far more to him that just his good looks. He is also hiding a big secret from the world.
Ms. Admans has done a fantastic job creating characters that you can really get to know, and understand. There aren't many secondary characters, but those that are present really do add depth to the story, especially Kat, the mobile baker, and her delicious, mouthwatering food that I could almost taste.
The French scenery is so vividly written, that you can feel the warmth of the sun bouncing off the pages, and smell the land that surrounds the property, with it's many different fruit trees.
The book has everything you could ever want from a chick-lit. Fun, warm characters who are hard not to like, a hilarious plot, a lot of drama, and of course a budding romance just bubbling beneath the surface.
I was completely hooked right from the first page, until the last. The Chateau of Happily Ever Afters is certainly uplifting, and leaves you feeling happy. The ending was perfect. I just hope that Ms. Admans carries on the story, as I believe the chateau has so much more to share with us.
Book reviewed by Stacey
Purchase Links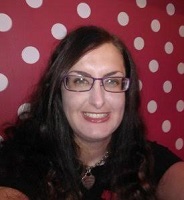 Jaimie is a 32-year-old English-sounding Welsh girl with an awkward-to-spell name. She lives in South Wales and enjoys writing, gardening, watching horror movies, and drinking tea, although she's seriously considering marrying her coffee machine.
She loves autumn and winter, and singing songs from musicals despite the fact she's got the voice of a dying hyena. She hates spiders, hot weather, and cheese & onion crisps. She spends far too much time on Twitter and owns too many pairs of boots.
She will never have time to read all the books she wants to read.
She is the author of chick-lit romantic comedies The Chateau of Happily Ever Afters and Kismetology, and she has also written young-adult romantic comedies Afterlife Academy, Not Pretty Enough, and North Pole Reform School.
You can find out more about Jaimie by having a read of our interview with her – 'The Writing Life of: Jaimie Admans'
Author Links
www.jaimieadmans.com
@be_the_spark
Facebook
Pinterest
Goodreads