Taking Leaps and Finding Ghosts by Janet DeLee – Book Review
Taking Leaps and Finding Ghosts by Janet DeLee – Book Review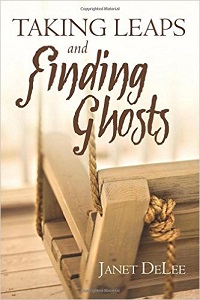 Taking Leaps and Finding Ghosts
Author – Janet DeLee
Publisher – CreateSpace
Pages – 262
Release Date – 14th May 2015
Format – ebook, paperback
Reviewer – Stacey
I received a free copy of this book
Post Contains Affiliate Links

Dreams aren't just for the young, and Ginny Lawther is happy to prove that even at the age of fifty-eight she can still brave a leap of faith…she just needs a little prodding from like-minded individuals. Step one: place an ad in the local newspaper inviting other dreamers to form an Ideal Life Club. Step two: see if anyone shows up.
When Ginny meets four hopeful strangers at the first club meeting, she thinks they're off to a great start.
Now it's only a matter of time before the sixty-something widow Hilda turns her crafting into a full-time career; the twenty-something Jerry becomes a professional musician; and the thirty-something housewife Lydia publishes her cookbook. That is, until the rugged divorcé, Lee, sets a goal to solve his ghost problem—and upends all their lives!
Suddenly the support group isn't just trying to navigate the ups and downs of pursuing their dreams; they're also wrestling with a strange cast of spirits who keep interrupting their endeavors. What do these apparitions want? And why have they latched on to the Ideal Lifers?
Haunting, humorous, and hopeful, Taking Leaps and Finding Ghosts sparks the imagination and breathes unexpected life into everyday reality.

Author Ginny has sold many books and become a household name, yet the one thing that she truly would like, is a home to call her own. She would love to buy her own place, yet she just doesn't have the courage to do so.
With that in mind, Ginny decides it's time to get her act together and has a plan. She will set up a club where the members will meet once a month and work though their wishes, and help each other achieve them – 'The Ideal Life Club'.
At the first meeting, 4 members turn up, all with separate goals that they want to achieve.
Lydia – She has always dreamed of writing her own cook book and donating the profits, but she doesn't know where to start, or if people will even love her recipes.
Hilda – Has a passion for crafting, and would one day love to give up her job as a carer at an old peoples' home, but first she has to make enough money selling her creations, and to come up with new ideas that people will love.
Jerry – Exceptionally shy and unsure of himself, he wants to become a singer and perform his songs in front of people. The problem is, he has severe stage fright.
Lee – His only wish is to get rid of the ghost or ghosts that are ruining his construction business. They have already ruined his marriage, and he is willing to do anything to make them just disappear for good.
The book is a light-hearted, perfectly-paced book, that packs a lot into the pages. Janet has written a fantastic and unusual story that brings together a whole range of emotions. It will have you feeling joyous, tense, sad and at times wanting to laugh out loud – 'Take That' (you will understand when you read the book).
Told from the various view points of the five members of the club, you get to delve deeper in to their lives, and see what makes them tick.
This is a book that I can honestly say I didn't see the twist towards the end coming. Janet certainly steered me down the wrong path with my train of though. It's nice when you can hold your hand up and say 'you got me'. I won't give the game away, but I did have to look up what was really happening as I had never heard of it before.
Taking Leaps and Finding Ghosts is Definitely worth your time and is a fantastic read.
Book Reviewed by Stacey
Purchase Links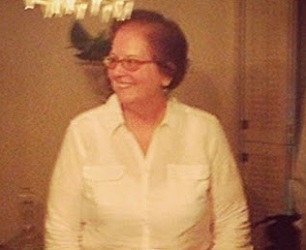 Author, Janet DeLee is the prolific writer of two fantastic books. Her brand new release of, "Taking Leaps and Finding Ghosts: A Novel" has readers excited of her second novel release.
Janet DeLee is a self-appointed, self-actualization guinea pig who firmly believes in leaps of faith and is committed to creating an ideal life for herself.
The Texas author, who lives in the Dallas area, was inspired to write ghost stories after experiencing unsettling events during stays at several bed-and-breakfasts, as well as an old New Orleans hotel. In addition to having a hint of mystery, DeLee's novels also tend to follow characters struggling to pursue their dreams.
Her unique writing style, storylines, and characters in her novels are born from this sassy little Texan's delightful imagination. Both books are available here on Amazon in e-book and paperback.
Author Links