Yours Cheerfully by AJ Pearce – Book Review
Yours Cheerfully by AJ Pearce – Book Review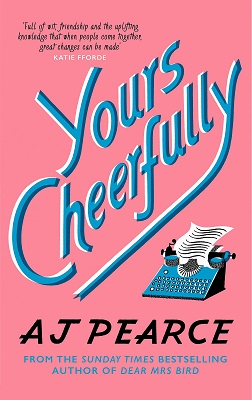 Yours Cheerfully
The Emmy Lake Chronicles
Author – AJ Pearce
Publisher – Picador
Pages – 352
Released – 24th June 2021
ISBN-13 – 978-1509853946
Format – ebook, hardcover, audio
Rating – 5 Stars
I received a free copy of this book.
This post contains affiliate links.


Synopsis
London, September, 1941.
Following the departure of the formidable Editor, Henrietta Bird, from Woman's Friend magazine, things are looking up for Emmeline Lake as she takes on the challenge of becoming a young wartime advice columnist. Her relationship with boyfriend Charles is blossoming, while Emmy's best friend Bunty, is still reeling from the very worst of the Blitz, but bravely looking to the future. Together, the friends are determined to Make a Go of It.
When the Ministry of Information calls on Britain's women's magazines to help recruit desperately needed female workers to the war effort, Emmy is thrilled to be asked to step up and help. But when she and Bunty meet a young woman who shows them the very real challenges that women war workers face, Emmy must tackle a life-changing dilemma between doing her duty, and standing by her friends.
Every bit as funny, heartwarming, and touching as AJ Pearce's debut, Dear Mrs Bird, Yours Cheerfully is a celebration of friendship, a testament to the strength of women and the importance of lifting each other up, even in the most challenging times.
I haven't read Dear Mrs. Bird but I was assured that this book would be fine to read as even though they are part of the same series Yours Cheerfully could be read as a standalone. From my encounter with this book I totally agree.
England 1941 – Emmeline (Emmy) Lake is a young journalist working for Woman's Friend Magazine. She is given the task of writing the responses in the agony aunt column, though she is to consult a more senior member of the team who will give her the advice, and then she is to write it up in a way that the women will find supportive under the signature 'Yours Cheerfully'.
Just as she is starting her new role she is invited to a meeting at The Ministry of Information with the newspaper editor. The ministry wants to focus on encouraging women to take up the roles that have become vacant in the country as more men head off to fight in the war.
Emmy loves her new role and writes some encouraging and amazing hard-hitting articles featuring women working in places like the munitions factories and the injustices women face, plus their childcare issues.
What I first noticed about the novel was how inspiring and hopeful the book makes you feel. I know probably strange feelings given it is set back in 1941 but Emmy is a woman who had a strong personality and so much enthusiasm for her work. It was a real joy to spend time in her company.
I don't think I have read many books set during WWII where the lead was a female, other than romances. I loved the feeling of a country coming together, the friendships that developed, and the attitude of the people at the time. Yes, there were some heartaches, it is set during a war, but the book was more uplifting than anything else. It also had plenty of old-fashioned British humour which did give me a good giggle at times.
I am now going to have to go back and read Dear Mrs. Bird, who sounded like a right character given the comments in this book.
Purchase Online From:
---
What did you think of 'Yours Cheerfully'? Share your thoughts in the comment section below!
---
The above links are affiliate links. I receive a very small percentage from each item you purchase via these link, which is at no extra cost to you. If you are thinking about purchasing the book, please think about using one of the links. All money received goes back into the blog and helps to keep it running. Thank you.
Like us on Facebook – Tweet us on Twitter – Pin us on Pinterest – Join us on Instagram