A Perfect Marriage by Alison Booth – Book Review
A Perfect Marriage by Alison Booth – Book Review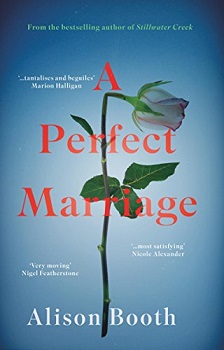 A Perfect Marriage
Author – Alison Booth
Publisher – RedDoor Publishing
Pages – 288
Released – 22nd March 2018
ISBN-13 – 978-1910453490
Format – ebook, paperback, audio
Reviewer – Julie
Rating – 3.5 Stars
I received a free copy of this book.
This post contains affiliate links.
When is it time to let go of the past?
Sally Lachlan has a secret that has haunted her for a decade, is it now time to let it go? A chance meeting with the charismatic geneticist, Anthony Blake, reawakens her desire for love and at the same time, her daughter, Charlie, shows signs of wishing to know more about her father.
Both the past and the future are places Sally prefers not to think about but if she wants to move towards a new love, she will first have to come to terms with her long-ago marriage. Only then will she be able to be honest with Charlie. And herself.
'A Perfect Marriage' is a romantic novel by Australian-born author, Alison Booth. The story is told in the first person by our main character, Sally, in both the past and present tense, blending her memories with contemporary events.
The book is beautifully presented with the cover design rich in simplicity and symbolism. We quickly learn that Sally is a widow so the fact that the rose has a damaged stem, suggests from the outset that maybe her marriage to Jeff had been less than perfect.
The author touches on sensitive issues to move the story along but I didn't really feel a great connection with any of the cast. Sally has the most depth because we share her thoughts as she takes control of her life and finally makes peace with the past.  Unfortunately, I found her fairly solemn and a little bland.  Anthony, the new love interest, seemed too good to be true; however, if he makes a habit of kissing ladies on the tip of the nose, I'm surprised no one has yet given him a black eye.
Literary devices are useful tools for an author to use when the action is thin on the ground. I therefore appreciated the time and place anchoring as well as the flashbacks, foreshadowing, conflict and a tiny bit of suspense.
The issue I have with a narrative completely dedicated to the perspective of one person, is that it loses the opportunity to explore the points of view of the supporting players. Sometimes this can work but in this instance, I found myself wanting to know more about Zoë and what happened between her and Jeff.  How much did Charlie remember from her childhood about the dynamic between her mother and father?  How does she feel about her mother embarking on a new relationship?
In a hugely competitive genre, I was desperately seeking something original to recommend this novel.  There is no graphic padding so it will offend no one and if you enjoy a gentle non-demanding romantic read, then this story is for you.
I was hoping for a twist or two in Sally's journey towards jettisoning her emotional baggage but the reveal wasn't too much of a surprise.  In summary, it was nicely written but rather too predictable and formulaic to achieve a four or five star rating.  Others may find depths I've missed and therefore my award is a respectable three-and-a-half stars.
Book Reviewer – Julie
---
Purchase online from:
---
About the Author
Alison Booth's latest, the compelling novel A Perfect Marriage, was published by RedDoor Publishing in March 2018. A story of love, family and secrets that is already garnering glowing reviews, it is in the genre of contemporary fiction/domestic noir.
Alison's dazzling debut novel, the best-selling Stillwater Creek, is set in a beautiful NSW coastal town and is an unforgettable, heart-warming novel about love and loss, betrayal and hope. Published by Random House Australia in 2010, it was Highly Commended in the 2011 ACT Book of the Year Award. Her second book, The Indigo Sky – a big-hearted tale of family and friendships – followed a year later. The enchanting Jingera trilogy concludes with the publication in June 2012 of A Distant Land, a heart-rending but life-affirming story of love and the callous twists of fate.
Born in Melbourne and brought up in Sydney Australia, Alison obtained her PhD from the London School of Economics. She currently divides her time between the Australian National University. and the UK. Over the years, she has published a number of short stories, as well as many academic journal articles and several nonfiction books.




---
What did you think of the book? Share your thoughts in the comment section below!
---
The above links are affiliate links. I receive a very small percentage from each item you purchase via these link, which is at no extra cost to you. If you are thinking about purchasing the book, please think about using one of the links. All money received goes back into the blog and helps to keep it running. Thank you.
Like us on Facebook – Tweet us on Twitter – Pin us on Pinterest
If you enjoyed our post please feel free to share it using the social media links below.