The Medium Path by Elizabeth Davies – Book Review
The Medium Path by Elizabeth Davies – Book Review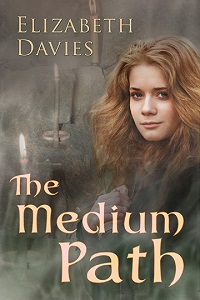 The Medium Path
Author – Elizabeth Davies
Publisher – Createspace
Pages – 248
Release Date – 26th May 2015
Format – ebook, paperback
Reviewer – Stacey
I received a free copy of this book
Contains Affiliate Links

Ruby died nearly one hundred years ago. She saw spirits of the dead when she was alive, and now she is dead she has become a guide who helps ghosts pass on.
When ghosts start being taken by darkness instead of the light, Ruby is forced to seek help from a handsome and unwilling medium, who awakens emotions she never knew she had.

Ruby Anderson is seventeen years old. Okay, well technically she is 103 years old, but dying at seventeen will see her forever at this age.
Her 'role' in the afterlife is that of Spirit Guide – she helps recently deceased people cross in to the light. That is until those waiting to cross are sucked in to a darkness instead.
With the help of her friends both dead and alive, Ruby sets out to find what or whom is taking the spirits into the darkness, and for what cause. In doing so though, she just may put herself and her friends in danger.
'The Medium Path' is a wonderful blend of numerous genres – Romance, thriller, mystery and paranormal all rolled in to one amazing must-read novel.
I had an immense warmth for Ruby. This is a young woman who passed from this world far too young, and rather than being taken in to the light, she was chosen to help others reach their final resting place. For 85 years she has been wandering this Earth, unseen by most, and mostly alone. Yet her charm and loving, calming nature were there for each and every one of the newly deceased, and it was her concern for them, that gave her that bravery to find out where the darkness was taking them.
I have a few literary heroines that I have fell in love with over the years, and Ruby has just been placed amongst them. Elizabeth Davies has so beautifully written Ruby in a way that you forget that she is a ghost, as she seems and acts so real throughout the entire story. Although she has been wandering the spirit world for 85 years, Ms Davies has kept Ruby as modern as possible, with her choice of clothes and her knowledge of modern technology.
As well as Ruby, we have a cast of amusing and entertaining characters. We have numerous other ghosts, and Mediums whom whether they want to or not, can see and hear Ruby and other ghosts.
One Medium who hates his 'gift' is Michael. He wants nothing more than to be left alone and never see a ghost again, including Ruby. As the story progresses, we watch as she slowly persuades Michael to trust her, as she really needs his help. In doing so though, she starts to have romantic feelings towards him.
The chemistry between Ruby and Michael was lovely to watch expand as the book progressed. You really want these two to be together. But a relationship between a human and a ghost would never work, would it?
Some of my favourite characters were the newly-deceased people, as each had their own story to tell. From Lucy who was terrified and couldn't comprehend what has happened to her, to the man who was convinced that his wife was haunting him after she had died, with her constant nagging. He refused to cross in to the light, just in case she was on the other side waiting for him.
The story changes directions many times, from the one that you presume it's going in. It is filled with so many twists and turns that you will be kept entertained and glued to the pages throughout.
The ending is just perfect, and one that I hadn't predicted. 'The Medium Path' will have you absorbed from beginning to the end. A fantastic book that I just couldn't put down.
Book Reviewed by Stacey
Purchase Links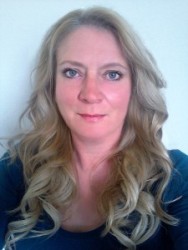 Elizabeth Davies was born and raised in South Wales more years ago than she cares to remember. She lived in England for nearly two decades but returned to her roots when she felt the mountains of her youth calling to her, and hiking in her beloved Brecon Beacons is now one of the joys in her life.
When she is not working as a full time secretary, Elizabeth loves spending time with her family, hates doing necessary chores, and tries to fit in writing whenever she can.
She has published several books: the Resurrection trilogy, beginning with 'State of Grace', continuing with 'Amazing Grace', and ending with 'Sanctifying Grace', 'The Spirit Guide' and most recently – 'The Medium Path'.
She is currently working on another paranormal romance set in Wales. She is also seriously addicted to chocolate.
Have a read of our interview with Elizabeth – 'The Writing Life of: Elizabeth Davis
www.elizabethdaviesauthor.co.uk
@bethsbooks
Facebook
Goodreads