The Girl at the Bar by Nicholas Nash – Book Review
The Girl at the Bar by Nicholas Nash – Book Review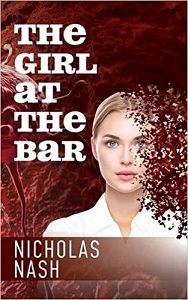 The Girl at the Bar
Author – Nicholas Nash
Publisher – Fireflies Publishing
Pages – 392
Release Date – 1st February 2017
ISBN 13 – 978-0998435817
Format – ebook, paperback, hardcover
Reviewer – Linda
I received a free copy of this book
Post Contains Affiliate Links

Rebecca, a brilliant cancer researcher disappears without a trace after a one-night stand with a neurotic man with a questionable past. Her sudden disappearance in the midst of a high-stakes quest to cure cancer between two rival billionaires sets into motion an inexplicable chain of events as the bodies start to pile up.
No one knows why she disappeared. The race to find answers ensnares everyone around her, one of whom is a deeply disturbed psychopath lurking in the shadows.
Is Rebecca still alive? What happened to her? Who did it? And why? Questions about her vex everyone looking for answers. No one can be trusted and no one is above suspicion.

The Girl at the bar is a near future thriller featuring advancements from current technology in areas of cancer research and computer programming.
The excitement runs high throughout the story, and Nicholas Nash has created characters that are well constructed and perfectly fitted the plot, plus they are very believable.
This is a thriller that reveals itself consistently at the right times, whilst also keeping me guessing all the way to the very end.
The story moves well through time, and at a good pace and flashbacks are well used.
This is a very easy read, with some blood and gore! Nicholas, kept the intrigue and suspense going right to the final chapter, which turned out to be quite a revelation!
I really enjoyed reading, 'The Girl at the Bar' which fits its genre perfectly. A refreshing thriller, with an intricate set of crimes to solve. I would definite recommend this book, and I look forward to reading more from this author.
Book reviewed by Linda
Purchase Links


Nicholas Nash is a simple person at heart who loves reading, traveling, and listening to music. He live with this semi-nagging voice inside his head that always wants to talk, telling him things he should be doing, thinking about or writing. He doesn't always listen to this voice, but he finally decided to give it a chance and we wrote 'The Girl At The Bar'.
He live in Manhattan in New York City with his wife and three children.
Have a read of our interview 'The Writing Life of: Nicholas Nash'
Author Links