Moonlight War Act Two by William Collins – Book Review
Moonlight War Act Two by William Collins – Book Review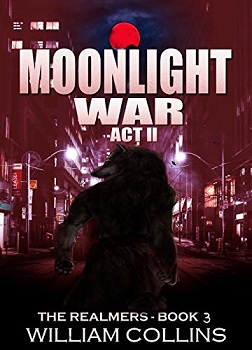 Moonlight War Act Two


The Realmers Book Three
Author – William Collins
Pages – 552
Release Date – 15th February 2017
Format – ebook, paperback
ISBN 13 – 978-1096096092
Reviewer – Julie
I received a free copy of this book
Post Contains Affiliate Links

Brooke has learned who engineered the war between werewolves and vampires in London, and if she and Arantay can't stop it, not only will the city be destroyed but everyone will know the Moonlight races exist.
Jed has discovered why Venators are being kidnapped from Veneseron, but now he's trapped inside the captor's lair himself, perhaps never to return.
Evan has set off on his own first mission, where he must travel through multiple bizarre worlds, attempting to stop a demonic cult.
Unfortunately, two of Evan's companions are two of his biggest rivals. His mission is thrown into further jeopardy when Evan learns he is being hunted by a force more powerful than anything he's faced before.
Jed suffers a grisly injury. An enemy discovers Brooke's biggest secret. Evan is marked by a wound magic can never heal, and not everyone survives.

This is the third book in the Realmers series by British author, William Collins. 'Moonlight War Act II' follows on directly from the end of the second book. As I read the previous book some months ago, a brief résumé and a glossary of terms at the beginning was very helpful.
The structure remains faithful to the previous books, with individual threads as we catch up with Brooke and Arantay in London and Evan undertaking his first mission with Emi and their more experienced colleagues, Bane and Sintian. We quickly note the tension between the Venators, which could prove as much of a threat to Evan's survival as the monsters he's fighting.
We meet a multitude of new creatures who are necessary to move the plot along but it is difficult to keep track of such a large cast. We also reconnect with established characters; Jed, Joelle and Alijah, who are facing a battle for freedom against the evil Mr Sengel and his daughter Cera.
We watch as the attractions and jealousies continue to play out, with the most significant being the bitter-sweet dynamic between Brooke and Arantay.
I was keen to see if Collins could maintain the standard of the previous books and think his vivid and colourful imagination has again enabled him to produce a solid piece of fiction. He has employed the same writing techniques as previously, showing himself to be an able wordsmith.
However, I think there is a danger of over-dependence on increasingly grizzly scenes which aren't strictly necessary because the underlying story is sufficiently entertaining. This time, I felt Collins didn't quite get the balance right.
A swift edit in the first half of the book would have taken nothing from the plot. I found the second half more engaging. However, I suspect many of his target audience will disagree with me and fans who feel an affiliation with Evan and Brooke will be gripped by the perilous situations in which they find themselves.
If you enjoy fantasy, this book won't disappoint but you do need to read the other books in the series first.
Collins has again delivered an exciting, fast moving fantasy adventure with a lot of innovations. Somehow though, this story didn't grip me quite as much as his earlier work as I became increasingly desensitised to the violent bits and accordingly, I award 'Moonlight War Act II' four stars.
Book reviewed by Julie
Read our reviews of books One and Two in the Realmers series.
Purchase Links


William Collins is a writer from the UK and the author of The Realmers Series, as well as the spin-off Realmer Chronicles.
A Darker Shade of Sorcery was the first in The Realmers Series. The sequels, Moonlight War acts one and two, are out now.
Author Links