Moonlight War Act One by William Collins – Book Review
Moonlight War Act I by William Collins – Book Review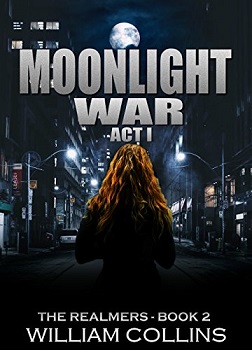 Moonlight War Act One


The Realmers Book Two
Author – William Collins
Pages – 302
Release Date – 29th August 201
Format – ebook
Reviewer – Julie
I received a free copy of this book
Post Contains Affiliate Links

After the catastrophic events of book 1, Evan and Brooke are trying to come to terms with recent revelations. However, it isn't long before their duties as Venators throw them back into action.
Whilst Evan faces a deathly trial to advance further in his training, Brooke embarks on her very first mission, which sees her embroiled in a war between the vampires and werewolves of London. If the werewolves and shifters baying for her blood wasn't enough, Brooke also has to face a starkly changed Arantay.
Meanwhile, the Dark-Venator forces are rising, whilst Evan and his friends contend with the mysterious disappearances of several Venators. Could they have been kidnapped? Evan also faces backlash from many of his fellow trainees, who hate or fear him. Evan thinks their reactions are bad now, but it would be nothing if they discovered his secret. His peers may even try to kill him if they learned the truth.
Evan knows he has to pass his trial to gain his first mission as a Venator, but he may never make it that far if his hidden powers aren't controlled. Across the realms, a terribly malignant force has learned of Evan and Brooke, and plans to strike.

'Moonlight War' is the second book in the Realmers Series by British author William Collins. We join the action at the end of the first book therefore if you haven't read 'A Darker Side of Sorcery' I think you may well struggle to pick up the story.
We reconnect with Evan, the main protagonist, near the beginning of the book and find a rather different young man to the one we met previously. He has learned some startling facts about himself and has much to re-evaluate. However to counterbalance this, he has finally found real home on Veneseron and friends who value him.
We also meet Brooke once again and see the dynamic of her troubled relationship with Arantay develop further when circumstances contrive to throw them together.
There were a lot of new characters with some very imaginative names and I must confess to getting a little bit confused as to who was who, so it is not the book to read if you're tired and not able to concentrate properly. There is a very useful glossary at the beginning which certainly helped in the early stages.
Collins paints vivid pictures of the characters along with interesting sub-plots and a few little cameo back stories to add depth to the peripheral cast.
The story zips along and the pace never sags, at times bordering on being frenetic and I felt quite exhausted reading it. Nonetheless, Collins has a very easy style without too many convoluted sentences and there is a good balance between dialogue and description.
I was particularly absorbed by the Great Games which was featured in detail in the latter stages of the book and brought to mind a parallel with the amphitheatres of the Roman Empire when gladiators fought for their lives.
It is always a difficult task to write a sequel and in many cases I am left rather underwhelmed by the results but Collins gives us enough new material in this book to pass my 'monotony test' with flying colours. This novel is pure escapism and as such, fighting evil creatures is the norm. My only qualification would be that an over-dependence on violent scenes could cause a loss of impact. Nonetheless, this book will enthral its intended target audience.
'Moonlight War' held my attention from start to finish and I commend the author for his imagination and delivery. I look forward to the next instalment with high expectations and award 'Moonlight War' five stars.
Book Reviewed by Julie
Purchase Links

Have a read of our reviews of William Collins other books – 'A Darker Shade of Sorcery' and 'Moonlight War Act Two'

William Collins is a writer from the UK and the author of The Realmers Series, as well as the spin-off Realmer Chronicles.
A Darker Shade of Sorcery was the first in The Realmers Series. The sequel, Moonlight War is out now.
Author Links