Dear Little Ones by Jade Miller – Book Review
Dear Little Ones by Jade Miller – Book Review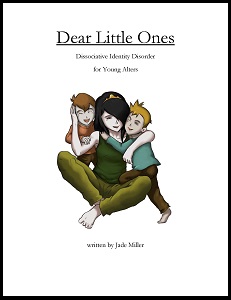 Dear Little Ones
Author – Jade Miller
Publisher – CreateSpace
Pages – 58
Release Date – 25th April 2015
Format – ebook, audio
Reviewer – Stacey
I received a free copy of this book
Contains Affiliate Links

A book about multiplicity for young alters.
A book about Dissociative Identity Disorder, written for young alters. The book helps young alters understand their experiences as part of a multiple system.

I'll be honest and tell you that until being asked to review this book, I had never heard of 'Dissociative Identity Disorder' (DID). So with me, Jade has accomplished one of her tasks with this book, to inform and educate people about the condition.
The book is aimed at children with Dissociative Identity Disorder, to help them understand what DID is, how it affects them, and to let them know that they are not alone and that nothing to do with the condition is their fault.
The book is quite short, but it contains a lot of useful inside knowledge of DID, that Jade wanted to pass on. It is written in a calming, relaxing manner and told directly to the reader by Jade. She writes beautifully and has added perfect illustrations that work well with the story.
I praise Jade for wanting to help those who are going through what she went through as a child. It's nice to see someone with a positive approach using their experience to help others.
A fantastic book that I feel every parent of a child that suffers with DID should own and read with their son/daughter. This is a book that can be read over and over, especially when the child is feeling down.
Book Reviewed by Stacey
Book reviewed by Stacey

Information on Dissociative Identity Disorder

Jade Miller is a blogger, artist, SRA survivor, and member of a poly-fragmented DID system. She desires to bring education and awareness about the reality of SRA/DID to the public and increase number and availability of resources to survivors for healing.
Author Links