And Baby Makes Four by Tilly Tennant – Book Review
And Baby Makes Four by Tilly Tennant – Book Review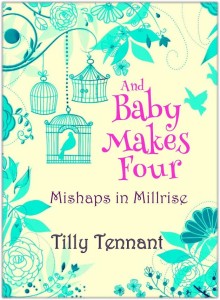 And Baby Makes Four
Mishaps in Millrise Book Four
Author – Tilly Tennant
Pages – 94
Release Date – 10th September 2015
Format – ebook
Reviewer – Stacey
I received a free copy of this book
Contains Affiliate Links

Could Phoebe and Jack finally have put their troubles behind them? All is calm at Hendry's toy store, and Jack's mother has even developed a grudging respect for Phoebe. If Archie is serious about addressing his issues, then things are really starting to look rosy for the couple again. But when did Phoebe's life ever go to plan?
As they prepare for what should be the happiest day of their lives, fate decides to throw them yet another curve ball. What they face will test them to the limit, but Phoebe might just believe in miracles before it's through.

'And Baby Makes Four', is the fourth and final book in the 'Mishaps in Millrise' series by Tilly Tennant.
Phoebe has a lot of decisions to make about her future and that of her unborn child. Can she and Jack reconcile their differences and can Jack overcome his fear that he will end up losing Phoebe, just like he did with his first wife?
Having followed Phoebe, Jack and Little Maria for so long, I was saddened to see their story come to an end, but I feel that Tilly Tennant saved the best for last.
This focus of this book featured mainly on Phoebe, Jack and their unborn child. Although, the series couldn't end without little Maria and of course the wonderful Midnight, without whom the books wouldn't be the same, as her unique, wacky, fun character brought an air of comedy to each one.
Phoebe has gone from strength to strength in each book and in this one we get to see a more confident, young woman, who has not only learnt to fully stand up for herself, but has come to realise that she is in control of her own life, meaning she should be the one to have the final say on decisions concerning her whether people like it or not.
My view of Jack felt has been up and down throughout the series and in the last book although I full understood how and why he reacted badly to Phoebe being pregnant, I was upset at his handling of the situation. I'm glad that he learned to face his fears and prove to Phoebe what a wonderful man he really is. He and Phoebe really do make a lovely couple.
I have loved each book in the series and if your looking for a lovely afternoon read, something to pick you up and put you in a good mood then the 'Mishaps in Millrise' collection of books would be perfect.
Book Reviewed by Stacey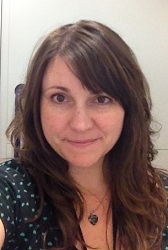 Tilly Tennant was born in Dorset, the oldest of four children, but now lives in Staffordshire with a family of her own.
After years of dismal and disastrous jobs, including paper plate stacking, shop girl, newspaper promotions and waitressing (she never could carry a bowl of soup without spilling a bit), she decided to indulge her passion for the written word by embarking on a degree in English and creative writing, graduating in 2009 with first class honours.
She wrote her first novel in 2007 during her first summer break at university and has not stopped writing since.
She also works as a freelance fiction editor, and considers herself very lucky that this enables her to read many wonderful books before the rest of the world gets them.
Hopelessly Devoted to Holden Finn was her début novel; published in 2014 it was an Amazon best-seller in both the UK and Australia. It was followed by "Mishaps and Mistletoe" and "The Man Who Can't Be Moved".
Author Links