Snowflakes at the Little Christmas Tree Farm by Jaimie Admans – Book Review
Snowflakes at the Little Christmas Tree Farm by Jaimie Admans – Book Review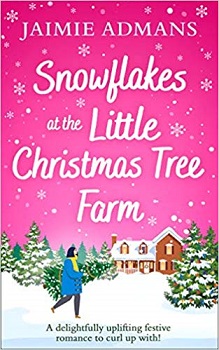 Snowflakes at the Little Christmas Tree Farm
Author – Jaimie Admans
Publisher – HQ Digital
Pages – 384
Released – 9th October 2019
ISBN-13 – 978-0008330712
Format – ebook, paperback
Review by – Stacey
Rating – 4.5 Stars
I received a free copy of this book.
This post contains affiliate links.
All she wants for Christmas…
Leah Griffiths has woken up after a few too many glasses of Prosecco with a hangover – and discovers she's accidentally bought a little Christmas tree farm in Scotland!
At first she's horrified, but perhaps it's the perfect way to forget all about her cheating ex.
And when she meets grumpy (but ridiculously gorgeous) pumpkin farmer Noel underneath the mistletoe, Leah begins to believe that at Christmas time, anything can happen…

The morning after finding her boss/boyfriend in a compromising position with a colleague and then discovering he's also been sleeping with half the office, Leah Griffiths wakes up with a banging headache after downing three bottles of Prosecco, she also realises that she has won a bid on something too on an auction site.
Not only did she bid and win an auction whilst drunk, but she has also paid for the item too. Expecting it to be another pair of shoes she is shocked when it turns out her purchase was not only for a Christmas Tree Farm in Scotland but that it has cost her £50,000, the money left after selling her parent's home when they died.
Looking through the photographs of Peppermint Branches, the farm, Leah realises that perhaps it is for the best. She now has no job, just one friend in London, and her father wanted to move back to Scotland before his death. How hard could running a Christmas Tree Farm be?
Things don't go according to plan when Leah arrives to find that the farm has been empty for four years and most of the trees are dead, there is also the grumpy neighbour Noel to put up with who thinks she will go running home back to the city when she realises how much work is involved and that the farmhouse has only half a roof and no windows. Leah has something to prove, not only to Noel but to herself too and she is going no-where – Maybe!
I absolutely adore Jaimie Admans' books and if you enjoy Rom-Coms and haven't read her work, I suggest you do. Snowflakes at the Little Christmas Tree Farm is a beautiful read, as beautiful as the front cover is. Leah is such a sweet character. She's had a hard few years and when she realised that she had bought a Christmas Tree Farm in Scotland it felt like fate had intervened in her life as it made her feel closer to her deceased parents.
Noel is the usual grumpy, sexy, handsome, and lovable character that you find in many Rom-Coms. He has been a Pumpkin farmer for many years and lives on the farm with his mum. His land is adjacent to Leah's and he is put out when he realises that she has bought it, believing that she won't stay and eventually sell it on to developers. He also has a soft side to him and for once it was nice to find a man in a book that admits when he's being an arse. Oh, he also has a gorgeous dog called Gizmo too.
The book was a quick read and I enjoyed it the whole way through. At times I did feel like some of the chapters dragged a little and were too long, but that is just my opinion as I'm really not a fan of long chapters. It is a wonderful festive novel and I couldn't wait to see if Leah could get the farm working again.
Snowflakes at the Little Christmas Tree Farm is a cosy book that will have you rooting for Leah as well as giggling along with her. A perfect addition to your festive reads list.
Book Reviewer – Stacey
---
Purchase online from:
---
About the Author

Hi. I'm Jaimie, I'm in my thirties, and I'm from South Wales, UK.
I write. Quite a lot. I started out self-publishing, but more recently I've been published by HQ Digital and will be querying agents with a YA project this year.
I enjoy writing, gardening, drinking tea, and watching horror movies. I love my Chihuahua – Bruiser, autumn and winter, and singing songs from musicals despite the fact I sound like a dying hyena. I hate spiders, hot weather, and cheese & onion crisps. I spend far too much time on Twitter and own too many pairs of boots.





---
What did you think of Snowflakes at the Little Christmas Tree Farm? Share your thoughts in the comment section below!
---
The above links are affiliate links. I receive a very small percentage from each item you purchase via these link, which is at no extra cost to you. If you are thinking about purchasing the book, please think about using one of the links. All money received goes back into the blog and helps to keep it running. Thank you.