The Next Chapter with Rob Keeley
Rob Keeley
Today we welcome back author Rob Keeley to Whispering Stories Blog to catch up on what he has been doing since our interview with him back in September 2017 on 'The Writing Life of: Rob Keeley'. This post contains affiliate links.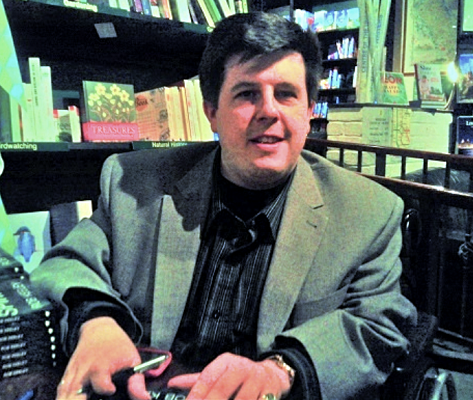 Rob Keeley was born in Wirral, Merseyside, UK. Writing his first story aged seven, his first short play aged eleven and first being published at fifteen, he wrote for several magazines before his first book for children, The Alien in the Garage and Other Stories, was published in 2011. He has since written two more collections of children's stories, one of which, The Dinner Club and Other Stories, was longlisted for the International Rubery Book Award.
He has now published all five novels in his Spirits series, the first of which, Childish Spirits, gained him a Distinction for his MA in Creative Writing before being longlisted for the Bath Children's Novel Award and nominated for the People's Book Prize in 2015. The second novel in the series, The Spirit of London, was highly commended for the Independent Author Book Awards in 2016 before book four, High Spirits, won at the succeeding Georgina Hawtrey-Woore Awards in 2018. He also has BBC writing experience with Chain Gang and Newsjack for Radio 4 Extra.
He has recently studied Screenwriting and Filmmaking, has been a judge for the IGGY and Litro Young Writers' Prize and is a Patron of the Children's Media Foundation. His books have been used in schools, libraries and at literary festivals and he is in demand for his author workshops, which one teacher even described as "inspirational"!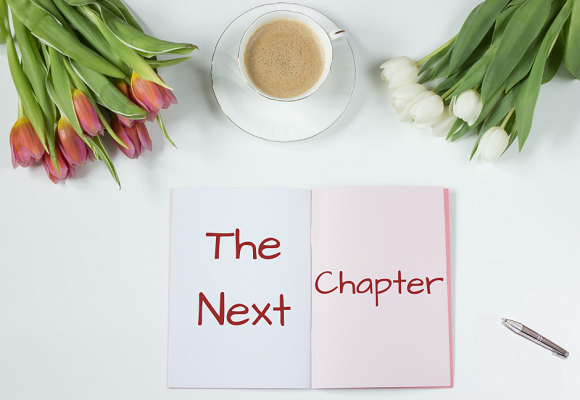 Welcome back to Whispering Stories Blog, lovely to be featuring you again. We last met you back in September 2017 when we spoke to you about your writing life and your latest book at the time 'High Spirits'. Since that date I believe you have written and published another two books and an eBook and an audiobook too!.
1) How has life changed since we last met you?
Life is much the same but I've steamed ahead with my writing, publishing the final Spirits novel The Coming of the Spirits and my first picture book, My Favourite People. Plus the first in the Spirits series, Childish Spirits, has been re-released this year as an eBook and as an audiobook, narrated by the actor Sally Millest. Plus, at the time of this interview I'm about to start teaching a Creative Writing course for adults and have various author visits in the diary, with a Storytelling visit to Wirral Food and Drink Festival and school workshops coming up.
2) Has your writing style changed since we last interviewed you?
I have had the opportunity to be a bit more experimental, with various darker and more surreal sequences in The Coming of the Spirits than my readers might be used to, and adapting my style to a pre-school/early primary audience for My Favourite People. When working with Sally and my publisher on the audiobook I've had to stop thinking of Childish Spirits as writing at all – instead it's become a piece of performance art. Ironically it started life being written for TV, so it's great to hear the characters and dialogue being performed at last!
3) Have you allowed yourself to be influenced by your readers' opinions of your characters?
Not especially, but it's great to get feedback, particularly when I do workshops and meet my young readers. On a library visit some of them actually claimed to be able to see extra ghosts on the cover of Childish Spirits! I still can't.
4) Have you found writing gets easier or harder the more books you write?
You become more confident and secure in the writing process, but it's a constant challenge to keep thinking up new ideas!
5) Is there a difference in the way you feel about your books the more you publish? As in do you still feel the same level of excitement?
You become more excited, as you see the back catalogue building up! But as noted, it does bring with it a responsibility to go on delighting the reader.
6) If you could live within the pages of any of the books created by you, which would you choose?
I think I'd choose My Favourite People because it's such a lovely carefree world of young childhood, surrounded by fun and mischief and the people you love.
Concerning your latest book: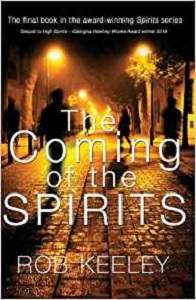 The Coming of the Spirits
Author – Rob Keeley
Publisher – Troubador Pub
Pages – 160
Released – 9th November 2018
ISBN-13 – 978-1789017168
Format – paperback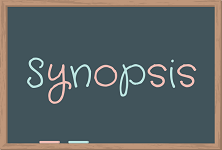 'Nazis alone were dangerous enough, but Nazis with the powers of ghosts… of evil spirits…'
Britain. The present day. The world we know. Ruled by the Nazis. Victorian England. Edward Fitzberranger is soon to become ill and die. But could there be another way? The Middle Ages. Sir Francis Fitzberranger is about to marry… but finds himself shifted in time.
The barrier into the spirit world is finally breaking down and no one in the mortal world is safe. History must be set back on course and prophecies fulfilled. The Grand Defender is needed.
As Ellie works with an underground resistance movement and with the spirit world too, she is about to discover her true destiny…

7) How long did it take you to write this book?
I was working on it for about three years, alongside other projects, prior to its release. It was a hugely important one as it concludes five years of the Spirits series and I wanted it to be a truly epic finale to Ellie and Edward's story, as well as a signature piece for me as a writer.
8) Can you tell us a little about your new book?
It follows directly on from book four, High Spirits, which we discussed when you last interviewed me. Ellie is trapped in an altered present-day Britain where the Nazis are in charge. Her family don't know her and she's completely on her own. The gap into the spirit world, established in earlier books, is getting wider and at any moment every evil spirit that ever lived is about to break back into the mortal world. Her only clue is a mysterious Warlock who keeps calling her the Grand Defender and tells her she must save the mortal world – but what can she do? The book is also a bit of a treat for those who've followed the whole series, as several past characters are back for the finale. But like all the Spirits novels, it's a thrilling story in its own right.
9) Can you tell us anything you edited out of your book?
Without going into details, it gets darker than any of my novels yet. The Nazis act like proper Nazis and the evil spirits commit some very nasty acts. I did tone down a few moments. But there's nothing unsuitable for older children to read
10) Are you still going through the same publishing methods?
Yes – and I'm still seeking a literary agent for what's officially now an award-winning series! [High Spirits won one of two awards in the YA category at the Georgina Hawtrey-Woore Awards in 2018.] I've just submitted Childish Spirits for a literary agent's pitching event in December so we'll see.
11) Can you remember seeing your book for the first time in the bookstore, supermarket, online?
Yes, and I was thrilled. I was still in my office job and I remember my colleagues looking at the publisher's website listing for The Alien in the Garage, which was my first book.
12) What next for you in your writing career?
I'll be teaching and doing workshops and storytellings throughout the autumn and will then turn my attention to my first standalone novel for middle-grade (the 8-12s), which I finished editing over the summer. I hope it will be published next year. It's my first novel for children without the Spirits characters and with no fantasy elements at all, so it'll be interesting to see how readers react to it! I hope to do many more books in the future.
Reviewers' Questions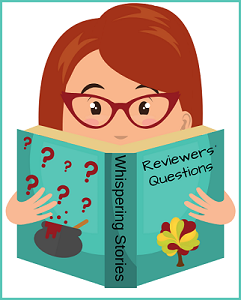 1) Question from Kerstin – When did you start writing?
Hi Kerstin. I've been writing since I was about seven years old and I had my first professional credit, a magazine article, at fifteen. Then my first book The Alien in the Garage was published in 2011.
2) Question from Ellwyn – When you're not writing, where can we find you?
Hi Ellwyn, normally in a library, bookshop, good cafe or once a week, in church! I'm spending increasing amounts of my time online too.
3) Question from Steve – Can you write in a noisy environment or do you have to have silence?
SORRY, WHAT WAS THAT? As I type, there is someone mowing noisily outside the window! I wish I were making this up. Hi, Steve. I lived by a slamming front door for three years as a student, next to the laundry room and a kitchen used by thirteen people, so I can sleep, live and work pretty much anywhere now! But peace and quiet are always best, or sometimes I work to music. I've got eclectic tastes but love my Eighties pop or old film and TV themes when I'm writing.
---
Author links



---
Share your thoughts on our interview with Rob Keeley in the comment section below!
---
The above links are affiliate links. I receive a very small percentage from each item you purchase via these link, which is at no extra cost to you. If you are thinking about purchasing the book, please think about using one of the links. All money received goes back into the blog and helps to keep it running. Thank you.