The Writing Life of: Rob Keeley
Rob Keeley
This week on 'The Writing Life of:' I am thrilled to be interviewing author Rob Keeley. Rob will be sharing with us detail of his writing life, telling us all about his latest book 'High Spirits', which was released on 1st August 2017, and answering a few fun questions too.
So without further ado I'll hand you over to Rob. Post contains affiliate links.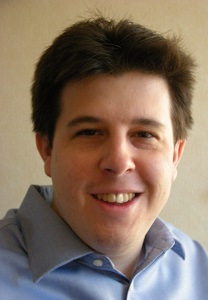 Rob was born in Wirral, Merseyside. Because he was a wheelchair user, the authorities placed him in a special school, aged three. Rob, however, had other ideas. Over the next twenty years he worked his way up to mainstream schooling, college and then university, gained a degree in Law and qualified as a barrister before working for several years in the third sector, including a stint in children's and family services. He has also worked as a volunteer classroom assistant helping young people with reading and I.T.
Writing his first story aged seven, his first short play aged eleven and first being published at fifteen, Rob wrote for several magazines before his first book for children, The Alien in the Garage and Other Stories, was published in 2011. He has since written two more collections of children's stories, one of which, The Dinner Club and Other Stories, was longlisted for the International Rubery Book Award.
He has now published the first four novels in his Spirits series for children, the first of which, Childish Spirits, gained him a Distinction for his MA in Creative Writing before being longlisted for the Bath Children's Novel Award and nominated for the People's Book Prize in 2015.
Rob also has BBC writing experience with Chain Gang and Newsjack for Radio 4 Extra. He has recently studied Screenwriting and Filmmaking. His books have been used in schools, libraries and at literary festivals and he is in demand for his author workshops, which one teacher even described as "inspirational"!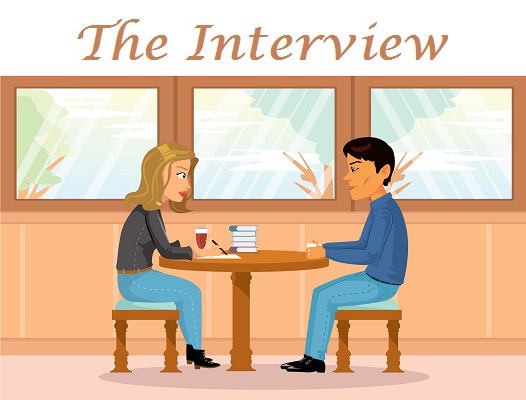 1) As a child what did you want to do when you grew up?
Write books for children. Always. I told this to someone at my special school and they just smiled. I also wanted to work with computers, when they were these rare and magical things in the corner of the classroom. I was lucky enough to be granted both these wishes.
2) Who were your favourite childhood authors?
When I was middle-grade age (the audience I now write for), my favourites were Jill Murphy, Gillian Cross, Helen Cresswell, Richmal Crompton and of course Enid Blyton.
When I grew older Judith Kerr and Michelle Magorian joined the reading list. Better add a bloke… CS Lewis. And of course we all read Roald Dahl when he was considered dangerous. One of my schools actually banned his books!
3) At what point in your life did you realise you wanted to be a writer?
I started writing aged seven, lying down on my front on the hairy hearthrug, ballpoint pen and felt tips covering me with ink. Then I was first published at fifteen, a magazine article. But it was finally confirmed to me that I wanted to be a children's author when, as a sixth former, I worked as a volunteer classroom assistant on the Community Project and got the chance to read a story to the class at the end of the day. It was sheer heaven. Particularly once I started to change the text and make bits up!
4) How did you go about following that dream?
I wrote everything I could, pitched everything I could, and got one rejection after another. But little by little, I started to have work accepted – articles, reviews, bits of fiction, gags on BBC Radio, anything and everything.
I was doing all of this in my spare time while working in the voluntary sector. Then the kindly Tories made me redundant amidst their cuts and I was pushed into living the dream! Fortunately I'd just had my first book accepted by Matador/Troubador Publishing (The Alien in the Garage and Other Stories) and also had a place to study a Master's in Creative Writing with Lancaster University – the creative work for which was Childish Spirits, the first novel in my Spirits series for the 8-12s.
5) What is your writing day like? Do you aim for a certain amount of pages or words before you stop for the day?
I still work as though in the office, start as early as possible and have one hour, no more, for lunch. I usually achieve 2, 000-4, 000 words a day. Perhaps 5, 000 on a really good day.
6) Did you ever consider writing under a pseudonym?
No, I always wanted to get noticed! I'd already spent years overcoming the boundaries of a physical disability in a world designed for non-disabled people, so why hide who I was? I don't want anonymity – I want recognition!!
7) Do you have any strange habits before starting, or whilst in the midst of writing?
Sadly for your readers, no! It's a job and I'm utterly professional, disciplined and completely boring about it. The fun comes when the reviews arrive and when I get out to meet the kids in my author workshops.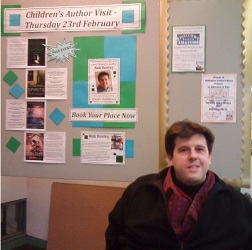 8) Do you write longhand, typewriter, or on a computer?
Computer, having gone through the other two options in my childhood and teenage years. Straight onto the screen. Longhand is now only for notes, if any, and I sometimes use the laptop even for these.
9) How many books have you written? Do you have any unpublished work?
I've now published four novels and three collections of short stories for the 8-12s. I have written many more novels and short stories for middle grade, and also a young adult novel, which I hope will be published in the future.
10) Are you a plotter or a pantser?
I take it this means narrative planning against flying on instinct. I'm more the latter category: I know where I'm going with a plot beforehand but I like the freedom to plan the route as I go along – and if necessary, change it. Sometimes your stories and characters surprise you.
11) Do you read all the reviews left for your book(s)?
Yes, I try to find and read every review. When I get negative comments I tend to ignore them. Or learn from them. But I'll go with ignore them. Genuinely constructive critics are rare.
Concerning your latest book: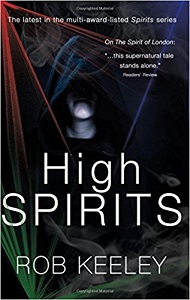 High Spirits
Author – Rob Keeley
Publisher – Matador
Pages – 128
Release Date – 1st August 2017
ISBN 13 – 978-1788036153
Format – paperback

"Millions of people will die in the war, Ellie. And it's our job to make sure it happens. That's why our work isn't easy."
It's been two years since Ellie last spoke to Edward. She thinks she's left the spirit world behind. But the spirits won't take no for an answer… When Ellie's Mum returns to Inchwood Manor, Ellie finds herself going too… and is transported back to the 1930s, discovering a plot to impersonate the King of England.
With the Second World War coming, and the first evil spirits starting to escape into the mortal world, Ellie is fighting alongside some unexpected allies…
High Spirits sees the series come of age and picks up with the central character, Ellie in her teenage years as she begins to realise the true nature of her abilities as one who talks to ghosts – and to discover her destiny. It sees her time-travel to the 1930s, as she discovers evil spirits and Nazi sympathisers working together in a way that will change the course of history. She then discovers the impact that such a change would have.

12) How long did it take you to get from the idea's stage to your date of publication?
Oh, the Spirits series has been brewing for a long time! Since 2011, actually, when I wrote Childish Spirits. The ongoing story arc came out of that. High Spirits was written in 2014 but is only now seeing publication. So – three years.
13) How did you come up with the names for your characters?
Of the central characters in the Spirits novels: Edward Fitzberranger is the ghost of an upper-class boy from the Victorian era, so I used Queen Victoria's eldest son plus a very grand name that hints at Norman ancestry.
Ellie – a good, contemporary name and one I first used in an early attempt at a children's book in my teenage years. Judith for Ellie's tough mother, Jon for her easy-going and feckless Dad. Charlie for her brother, and I get some comedy out of him being an image-conscious teenager who prefers Chas (like I chose Rob over Bobby when I went to big school).
In High Spirits we also meet Jerry Proudfoot, a flamboyant film director, and Ellie's teenage crush, the handsome Luke. It's usually just a case of what sounds right for the character.
14) Can you give us an insight into your main character(s) life?, What makes them tick?
Ellie was established in the first three Spirits novels as the classic ABC kids' hero – Adventurous, Brave, Curious. She's always up to solve a mystery and is very loyal to her friends – whether they're alive or ghosts! But I've increasingly sought to look beyond that and show that she's vulnerable and conflicted as a result of her parents' marriage breaking up.
In High Spirits two years have gone by since the events of the last book and she just wants an ordinary teenage life – but the spirit world isn't having that!
15) Which was your hardest scene to write?
High Spirits sees Ellie time-travel to the 1930s, where she discovers just how many people in Britain in those days supported Hitler – something I feel was always rather glossed over in school history lessons.
There's a scene where she's at dinner at Inchwood Manor and hears her fellow diners being openly anti-Semitic and pro-Nazi… and she has to consider the impact on history of intervening. It was enormously difficult to write as I had to show the callousness of the Nazi philosophy while handling the issues with appropriate sensitivity for a twenty-first century audience and a children's book. But I'm quite pleased with the result.
She hears right-wing views on immigration and the unemployed which are still alarmingly familiar from today. When Ellie finally speaks out, it's worth reading.
16) How did you come up with the title of your book?
All the novels in the series have Spirit or Spirits somewhere in the title. High Spirits revolves around a plot to impersonate the King of England, which also involves ghosts – and you can't get much higher in society than a King, so – High Spirits. Oddly, a few years back this was a working title for Childish Spirits! I never throw anything away.
17) Did you get a family member/friend to read your work before sending to the publishers?
No, my work is professionally edited and proofread – family and friends will have to wait until the book's published!
18) What process did you go through to get your book published?
I've been an indie author since 2011, working with Troubador Publishing. We've established a very productive working relationship and this is the seventh book we've worked on together – we've reached the stage where their marketing department is describing me as "prolific"!
19) What did you do once you had written the final word in your book?
Started thinking about the next one!
20) What's next for you, writing-wise?
The final novel in the Spirits series is already near completion – the final chapter of Ellie and Edward's story, which will see scares, thrills, laughs and maybe just a few tears before bedtime. Then I move on to new stories for children.
I'm still seeking a permanent literary agent and a traditional publisher for my work – despite being listed for four awards! – and I'm keen to develop it in every way possible. I'm also involved in pitching a TV series based on the Spirits novels, but can't say too much about that at present… plus, I have more author workshops coming up and I love every opportunity to meet my readers.
1) What's your favourite food?
Steak, cheese, scampi and breakfast foods (full English, but without the eggs. Never fancied anything that came out of the wrong end of a chicken. But that's just my opinion).
2) If you had a box of crayons and you could only choose one, which colour would you choose?
Purple.
3) What movie could you watch over and over again?
Any Bond movie, any Muppet movie. Every Christmas I watch The Snowman (the original) and about three versions of A Christmas Carol, including the Muppet one.
4) What would be the top song on your playlist?
Nobody Does It Better (the theme from The Spy Who Loved Me). My favourite Bond theme and some very good friends of mine had it for the first dance at their wedding, so that's another happy memory.
I also once fell out of my wheelchair while it was playing but I still love it. It's a good example of my favourite kind of artform, whether it's literature, music or whatever: something without pretension that just goes in, does the job and is casually brilliant. Just listen to that trumpet coming in at the last possible moment towards the end.
5) If you won millions, what would be your first purchase?
A better life for someone else.
6) A talking duck walks into your room wearing a baseball cap and sunglasses, what's the first thing he says to you?
'Quack'
You can find out more about Rob by visiting the website/social media sites below.
www.robkeeley.co.uk
@RobKeeleyAuthor
Goodreads
I would like to say a big thank you to Rob Keeley for sharing with us details of his writing life, and for a wonderful interview.