Sweet Sacrifice by L.D. Rose – Book Review
Sweet Sacrifice by L.D. Rose – Book Review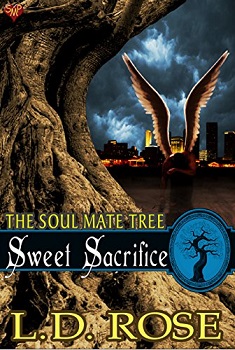 Sweet Sacrifice
The Soul Mate Tree Book Nine
Author – L.D. Rose
Publisher – Soul Mate Pub
Pages – 152
Release Date – 13th September 2017
Format – ebook
Reviewer – Nia
I received a free copy of this book
Post Contains Affiliate Links
Former Navy SEAL Sebastian "Bash" Lockard died in Afghanistan after leaping on a grenade to save his comrades. Little did he know his act of heroism would grant him a ticket into Heaven's elite army as one of the few and powerful Archangels. Struggling with his new existence, Bash still retains his human memories, leaving behind a wife he loves with all of his heart. Although he's forbidden to see her, he can't resist her lure, or the mortal desires he harbors for her.
As a young widow and nurse, Irene Lockard still mourns her husband two years after his untimely death. His absence is everywhere, and when her best friend weds, she hits an emotional rock bottom. As if summoned from the skies above, Sebastian appears before her, and they share an unforgettable night. But when he once again vanishes, she wonders if she's truly gone mad with grief.
The only way Sebastian can remain with Irene is if he makes the ultimate sacrifice. But will she overcome her fear of losing him again to another war?
Review
This book was far too upsetting for me – I'd picked it up on principle without reading the synopsis because L.D. Rose is one of my favourite authors and let's be honest here, I'm really lazy.
I didn't realise that the author was going to take a bat to my emotions and live off my tears (unconfirmed rumours report that she lives off tears, she may just revel in them) when I opened this book, but it became clear that this was the case early on in the book.
The main character, Bash, is a former Navy SEAL who died in the course of duty and is now working on the side of angels in a war against demons. Firstly, I knew that Navy SEAL romance was a trope but this is the first one I've ever read – I kind of like it, it automatically assumes that the hero is honourable and there will be some violence (both are perks in my mind).
The angel thing didn't entirely work for me, just because I'm not a huge fan of angels as a concept. Why I'm happy with demons and vampires, but not angels is a mystery for another day. I will point out that this book wasn't religious in any way, or to my mind, blasphemous, so…. there's that.
The writing style is so compelling, as always, which is why I devoured this book all in one. It's a mix of paranormal and mundane reality to highlight the magical bits and romance. It's a solid love between two normal people, cut short by tragedy. What's especially refreshing is that the couple is already married, so there's none of the 'getting to know each other' stage which I know some people find tedious.
What devastated me about this book was the stark reality of grief. Irene lost her husband to war two years ago and she can still barely function, knowing that there are millions of women out there like her that will never see their loved ones again breaks my heart. It's also the reason I can't watch war films or documentaries…. and don't think I'll be able to read another soldier romance again!
This is another great book from the author and I would highly recommend it for fans of romance, especially paranormal romance, who enjoy a good tearjerker!
Book reviewed by Nia

---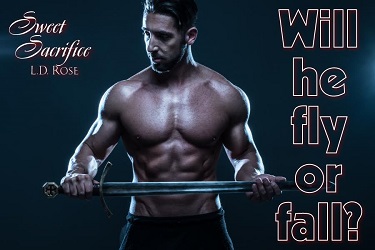 Why not have a read our reviews of L.D. Rose's other books – 'Black Bullet' and 'Releasing the Demons'
---
About the Author

L.D. Rose is a neurotic physician by day, crazed writer by night, and all around wannabe superhero. She writes paranormal romance and urban fantasy, but she's been known to delve into horror, sci-fi, and medical suspense on occasion.
L.D. Rose is a PAN member of the RWA, FF&P, NEC-RWA and CoLoNY. She currently lives in Rhode Island with her studly hubby, her hyperactive boxer, and her two devious cats.







---