Releasing the Demons by L.D. Rose – Book Review
Releasing the Demons by L.D. Rose – Book Review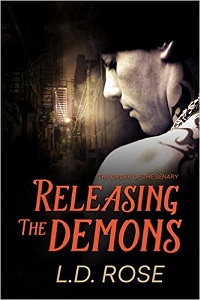 Releasing the Demons
The Order of the Senary
Author – L.D. Rose
Publisher – Soul Mate Pub
Pages – 306
Release Date – 19th August 2015
Format – ebook, paperback
Reviewer – Nia
I received a free copy of this book
Post Contains Affiliate Links

Blaze Knight has been through hell and back, but the nightmares aren't over yet.
Five years after Blaze was maimed by Cyrus Chimola, a powerful vampire with a penchant for torture, he's still trying to pick up the pieces of his shattered life. As a genetically engineered mercenary with the ability to bend fire to his will and to see in infrared, Blaze's mission is to protect what's left of humanity.
When Chimola and his crew return to the Bronx gunning for Blaze's blood, Blaze is forced to face the demons of his past. Hell-bent on revenge, he seeks the help of Valerie Medeiros, an NYPD detective who manages to steal his heart and save his life in more ways than one.
Motivated by her sister's gruesome death, Valerie has made it her life's goal to bury every vampire in the ground where they belong. When she brings in Blaze Knight for suspected murder, she discovers he's not only innocent, he isn't a man at all—he's a half-vampire hybrid working with a band of brothers for the U.S. military.
Valerie has a hard time trusting anything with fangs, yet she quickly falls headlong into Blaze's life, a life full of darkness and horror she can't even begin to fathom. The bodies are stacking up, but Valerie can't seem to let go of this hybrid, a beautiful monster filled with pain, rage, and passion unlike anything she's ever known.
In a world where the line between good and evil is blurred, Blaze and Valerie will find danger at every turn, risking everything they've come to know and love, including one another.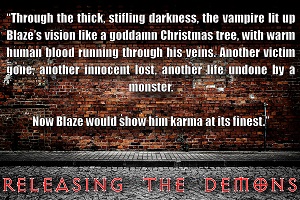 This book was clearly heavily influenced by J R Ward's Black dagger brotherhood series and that is by no means a bad thing, I absolutely loved that series and have no doubt that I will love this one.
It involves a brotherhood (in this case of actual half siblings) of vampires on a mission to same the world from other blood suckers. In this instance, we follow Blaze, a vampire hybrid with the ability to create and control fire. He is a tormented soul, haunted by the horrors of his past after seven months of torture at the hands of other vampires.
His body and mind are both scarred from what he's experienced and when he's accused of killing a young woman, there aren't many people who believe that he isn't responsible. One of the detectives on the case, Valerie Medeiros, suspects him following the description of the last person seen to leave the victim's apartment but soon realises that someone else is responsible and is trying to frame him for the crimes.
These things do take something of a side track to the hot and sizzling romance between the two that begins almost the second they lay eyes on each other. Valerie has her own emotional scars to contend with following the destruction of her family following a vampire attack on her younger sister when she was a child, something which motivates her in her work and that she recognises in Blaze and his own personal hell.
Neither of them trust easily and it's a little disconcerting how quickly they seem to start sharing their emotional burdens with each other after meeting, it would have been nice to see just a little bit more gratuitous dancing around each other before they get down to the… erm…. nitty gritty.
That aside, their relationship is exceptionally intense and doesn't succumb to the cardinal sin of romance with alpha male characters – Blaze treats Val with respect and doesn't bully her and I get the feeling that Val wouldn't stick around long if he started mistreating her!
I loved the characters in this book, they're a little cliched but there's a reason that they are! Strong yet emotionally crippled woman saves strong yet emotionally crippled vampire, lots of angst and smouldering looks and everyone's home in time for tea. That is exactly what I like in a paranormal romance novel and that's exactly what I got here.
Blaze's brothers are introduced in this book, each of whom has their own special power as a result of the genetic testing which created them. This is a really interesting concept and I can't wait to read more about them in action and the explanations for how they came to be. I'm a fan of a bit of theoretical science and as the author is a physician by day, I don't think she'll disappoint!
The use of language was perfect in this book, it was utterly spellbinding and I couldn't put it down until I reached the end. I'm certainly looking forward to the next instalment in this series as there was just enough storyline and action going on to hold my interest beyond the relationship between Blaze and Valerie.
I would recommend this series to any fans of this genre, particularly those who enjoyed the Black Dagger Brotherhood. The primary difference between the two series is that the vampires in this series are hybrids but their abilities are based more in modern science rather than ancient magic, with more automatic weaponry than swordplay.
Book reviewed by Nia
Purchase Links

Read our review of L.D. Rose's other book – 'Black Bullet'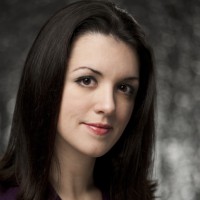 L.D. Rose is a neurotic physician by day, crazed writer by night, and all around wannabe superhero. She writes paranormal romance and urban fantasy, but she's been known to delve into horror, sci-fi, and medical suspense on occasion.
L.D. Rose is a member of the RWA, FF&P, NEC-RWA and CoLoNY. She currently lives in Rhode Island with her studly hubby, her hyperactive boxer, and her two devious cats.
Author Links