Wasteland by Terry Tyler – Book Review
Wasteland by Terry Tyler – Book Review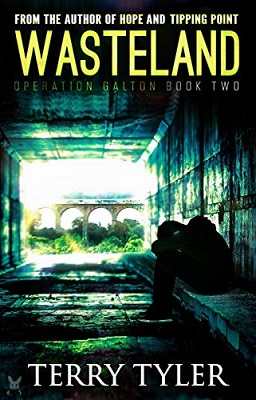 Wasteland
Operation Galton Book Two
Author – Terry Tyler
Pages – 478
Released – 22nd April 2020
Format – ebook
Review by – Julie
Rating – 5 Stars
I received a free copy of this book.
This post contains affiliate links.


"Those who escape 'the system' are left to survive outside society. The fortunate find places in off-grid communities; the others disappear into the wasteland."
The year: 2061. In the new UK megacities, the government watches every move you make. Speech is no longer free—an 'offensive' word reaching the wrong ear means a social demerit and a hefty fine. One too many demerits? Job loss and eviction, with free transport to your nearest community for the homeless: the Hope Villages.
Rae Farrer is the ultimate megacity girl – tech-loving, hard-working, law-abiding and content – until a shocking discovery about her birth forces her to question every aspect of life in UK Megacity 12.
On the other side of the supposedly safe megacity walls, a few wastelanders suspect that their freedom cannot last forever…
Wasteland is the stand-alone sequel to 'Hope', the concluding book in the two-part Operation Galton series, and Terry Tyler's twenty-first publication.

'Wasteland' is the latest novel from multi-genre author Terry Tyler. The story is written in the present tense and we see the action through the eyes of several protagonists, with Rae Farrer as the central character. We share Rae's thoughts in the first person and the others in the third person.
Those deemed to be most useful to the running of the country, live in megacities. Many of the generation born after the restructuring of society were brought up by the state and indoctrinated from an early age. Those that chose to live in family units were allowed one child. Career advancement led to a better flat and the opportunity to have more children. Rae was fortunate enough to be born into a loving family and lived with them for her first two years. After her father's death, Rae's mother and siblings were to be sent to a Hope Village. Rae's mother took the painful decision to leave Rae behind in the secure surroundings of MC12, believing she would have a better material upbringing.
After escaping their guards during the journey, Rae's family escaped to live off-grid. Now grown up, Rae often thinks about her mother and siblings. She starts to feel restless and dissatisfied with the shallow, sanitised and regimented life she leads. An opportunity to find her loved ones presents itself when she finds there's an underground network that can help her.
Until now, those who lived outside the megacities were ignored but then Operation Galton began and things started to change…
Through the use of foreshadowing, misdirection, pathos and underlying menace, Terry Tyler weaves this tale to its dark and sinister conclusion. She portrays Rae as a fairly typical conformist member of society living on-message, until the pull of her family ties become too much to ignore. Away from her megacity life, she witnesses events that she wouldn't have believed possible and asks herself if she would have been better off not knowing.
I engaged with the first half of the story and the characters were as rounded as one would expect from a Tyler plot. I was thinking that whilst it was entertaining and well written, it hadn't grabbed me in quite the same way as her previous work. The second half then explodes into life, building on the earlier groundwork. By the end, I was engrossed.
This tale is thought-provoking and shocking, with its Nazi undertones and multi-layered moral messages. Whilst it is the second of a two part series, it acquits itself well as a stand-alone book and the unanswered questions are neatly tied up at the end. There are some poignant, sad and disturbing moments, so I'm not sure that I enjoyed the story but I'm very glad I read it. Fans of Terry Tyler, both existing and new, will not be disappointed with 'Wasteland' and I award five stars.
Book Reviewer – Julie
---
Purchase online from:
---
About the Author

Terry Tyler is the author of twenty books available from Amazon, the latest being 'Wasteland', the sequel to 'Hope'. She is currently working on 'Safe Haven', a post-apocalyptic murder mystery set in the same world as her Project Renova series. Proud to be independently published, she is also an avid reader and book reviewer, and a member of Rosie Amber's Book Review Team.
Terry is a Walking Dead addict, and has a great interest in all things post-apocalyptic, history (particularly 14th-17th century), and sociological/cultural/anthropological stuff, generally. She loves South Park, Netflix, autumn and winter, and going for long walks in quiet places where there are lots of trees. She lives in the north east of England with her husband.




---
What did you think of Wasteland? Share your thoughts in the comment section below!
---
The above links are affiliate links. I receive a very small percentage from each item you purchase via these link, which is at no extra cost to you. If you are thinking about purchasing the book, please think about using one of the links. All money received goes back into the blog and helps to keep it running. Thank you.
Like us on Facebook – Tweet us on Twitter – Pin us on Pinterest