Spring Shoots on Sunflower Street by Rachel Griffiths – Book Review
Spring Shoots on Sunflower Street by Rachel Griffiths – Book Review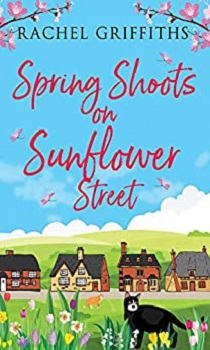 Spring Shoots on Sunflower Street
Sunflower Street Book One
Author – Rachel Griffiths
Publisher – Cosy Cottage Books
Pages – 130
Released – 28th February 2020
Format – ebook
Review by – Linda
Rating – 4 Stars
I received a free copy of this book.
This post contains affiliate links.


Lila Edwards keeps to herself. Jilted on her wedding day by her fiancé, she has little interest in looking for love again. She spends most of her time hiding away in her cosy cottage, snuggling on the sofa with her two cats and trying to find the energy to invest in her online craft business.
Widower Ethan Morris has been drifting from job to job since he lost his wife, unable to commit to anything for long. He's returned to Sunflower Street to stay with his ailing mother and is secretly glad to have an excuse to go home. His mother suggests that he puts his manual skills to good use by starting his own painting and decorating business.
The glorious spring sunshine reveals all the areas of Lila's cottage that are in need of maintenance, as well as a good spring clean, and her friends suggest that she hires someone to do the work. At first, Lila is reluctant, having kept things the same since her fiancé left, but she has to admit that a fresh lick of paint on the walls and some more shelves for her books would be nice. When a flier advertising a new local painter and decorator lands on Lila's doormat, it seems like fate has made the decision for her.
As Ethan works his magic on Lila's cottage, and spring brings hope and renewal to Sunflower Street, is it possible that there could be a new beginning in store for Lila and Ethan too?

Spring Shoots on Sunflower Street is a lovely moving love story after past tragedies, for the two main characters Lila and Ethan.
The book starts strong as we meet Lila's friend Roxie trying to get her to open her front door. Roxie is determined to get Lila back into the real world, instead of hiding on her sofa with her cats after she was jilted on her wedding day.
We also meet the other main character, widower Ethan, who too has been struggling in the past year with his life and has returned to his childhood home, and his sick mother to look after her.
I felt the author was able to portray the heartache, emotions, and grief throughout this beautiful story in a realistic manner. I smiled and cried whilst reading this book and it certainly touched me.
My favourite character has to be Ethan. My heart went out to him as he had to pick up and start again with life. The author made this so real for me.
A definite page-turner, not for thrills and spills but everyday life with its ups and downs. I loved the description of Sunflower Street and the local area, which I could visualise perfectly, pity it is all a work of fiction!
I loved the length of this book which can be easily read in just one or a couple of sittings. I thoroughly enjoyed the story and now look forward to reading more from author Rachel Griffiths, especially book two. I will definitely be recommending this to family and friends and to anyone who loves to read everyday life, love, and new beginnings tales.
Book Reviewer – Linda
---
Purchase online from:
---
About the Author
Author. Wife. Mother. Earl Grey tea drinker. Gin enthusiast. Dog walker. Fan of the afternoon nap.


---
What did you think of Spring Shoots on Sunflower Street? Share your thoughts in the comment section below!
---
The above links are affiliate links. I receive a very small percentage from each item you purchase via these link, which is at no extra cost to you. If you are thinking about purchasing the book, please think about using one of the links. All money received goes back into the blog and helps to keep it running. Thank you.
Like us on Facebook – Tweet us on Twitter – Pin us on Pinterest