Gnarled Bones by Tam May – Book Review
Gnarled Bones by Tam May – Book Review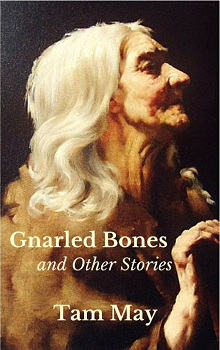 Gnarled Bones


And Other Stories
Author – Tam May
Publisher – Dreambook Press
Pages – 70
Release Date – 5th November 2016
ISBN 13 – 978-0998197906
Format – ebook, paperback
Reviewer – Marcia
I received a free copy of this book
Post Contains Affiliate Links

Gnarled Bones and Other Stories is a book of five uncommon tales of loss, fear, and guilt.
In this collection, strange and sometimes spooky events have a profound effect on characters' lives. A newly divorced woman goes back to school to begin a new chapter of her life only to find herself circling back to where she started. A woman and her friends spend a day at the circus but the innocent fun mingles childhood nostalgia with brutal fear. A woman ventures out of her isolated apartment one quiet Saturday afternoon to an art exhibit that leaves an eerie imprint on her psyche*. A middle-aged violinist reveals the mystery behind his declining artistic powers to a stranger on a train. And the title story weaves journal entries and first-person narrative to paint a picture of the complicated bond between an orphaned brother and sister.
These stories leave an impression of the present and future in the shadow of the past.

Gnarled bones and other stories, is a collection of five short stories written by Tam May.
The book opens with the story 'Mother of Mischief'. 'Mother of Mischief' concerns a woman who after getting divorced decides its time to get herself a college education, but because she is on a low income she ends up in rented accommodation, which she has to share with a group of young men. This for me was my favourite short story out of the five. I like the way the story built up to reveal the inevitable conclusion.
As the book is only 70 pages long it is ideal for a quick read, and you should manage to read it in one, or two sittings. That is unless you want to read the five stories separately, putting the book down after each one, so that you can absorb each story.
The other stories in the book include Bracelets, A First Saturday Outing, Broken Bows, and of course Gnarled Bones.
Gnarled Bones is a great collection of stories that I thoroughly enjoyed reading.
Book Reviewed by Marcia
Purchase Links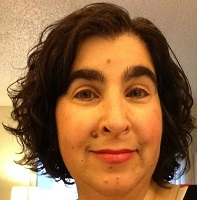 Tam May was born in Israel but grew up in the America. She earned her college degree in English before returning to the States, where she currently resides. She has a Master's degree in English and worked as an English college instructor and EFL teacher before she became a full-time writer. She started writing when she was 14 and writing became her voice. She writes dark psychological fiction that explores psychological realities informed by past experiences, dreams, emotions, fantasies, nightmares, imagination, and self-analysis.
Her first work, a short story collection titled Gnarled Bones And Other Stories is out now in paperback and will be out in ebook on January 19, 2017. She is currently working on a novella series called The Waxwood Series, set in a Northern California resort town. The series explores the crumbling relationships between members of the Alderdices, a wealthy San Francisco family.
In Book 1, The Order of Actaeon, The Alderdice son and heir falls into the hands of a charismatic older man obsessed with power and leadership during a summer vacation in the resort town of Waxwood. The second book, The Claustrophobic Heart, brings in Gena Flax, a young woman who must cope with the mental deterioration of her aunt during their summer stay at Waxwood. In the last book of the series, Dandelion Children, the daughter of the Alderdice family is drawn into the disturbed life of the man who ruined her brother one rainy summer in Waxwood.
She is also working on another book titled House of Masks about a woman who, mourning the death of her father, breaks free of isolation and loneliness when she is drawn into the lives of her two neighbors, one eccentric and one mysterious.
She currently lives in Texas but calls San Francisco and the Bay Area home. When she's not writing, she's reading classic literature and watching classic films.
Author Links