Wild and Free by Wendy Holden – Book Review
Wild and Free by Wendy Holden – Book Review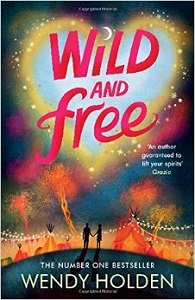 Wild and Free
Author – Wendy Holden
Publisher – Headline Review
Pages – 480
Release Date – 23rd April 2015
Format – ebook, paperback, audio
Reviewer – Jodie
I received a free copy of this book
Post Contains Affiliate Links

Teacher Ginnie is desperate to forget her crush on headmaster Mark, and hopes glamping might do the trick. But Mark is also heading for Wild & Free to reform his college band … desperate not to be seen by anyone he knows.
Mark's bandmate James dreams of a festival blow-out with his son, Guy … until his wife Victoria's ambition kills the dream. Now she and Guy are en route to Wild & Free instead but when Guy meets Shanna-Mae and falls for her earthy charms, Victoria is determined to snap Cupid's arrow.
Will the magic of the festival send them wild? Or set them free to find peace and love?

All the characters we are introduced to at the start of the book are heading off to 'Wild & Free' – a festival set in the beautiful countryside of Somerset. Some are going in order to perform. Some are going to escape everyday life, chill out and have some fun, and some are going to get up to no good at all.
There are many characters to meet, and to begin with I found it confusing. I had to occasionally flick back a few chapters to remind myself who was who, and this did put a bit of a dampener on the book for me (especially when the name of one character briefly changed, which a proof reader should've picked up on!) However, I ploughed on with it and it became easier.
Each of the characters were unique and there were some I liked and some I didn't. Amongst them there were jewel thieves, an ex-convict, a politician, a crazy wannabe children's author, a middle-aged reformed rock group, two teachers, a judge, two beauty business entrepreneurs, and more.
A lot of the characters became linked to each other and this helped bring the story together which made reading easier. I enjoyed reading about teacher, Ginnie, and headmaster, Mark. The will-they-won't-they element was a nice contrast to other stories going on, such as the two escaped murderous convicts, Boz and George, who were disguised as a drag act.
The character of Lorna Newwoman (she changed it from Newman much to everyone's horror and amusement) was another character I enjoyed reading about. She is determined to introduce her début books at the Story Jam; 'The King Who Couldn't Wee' and 'The Princess Who Couldn't Poo' much to the utter humiliation of her young son, Alfie. I felt a surge of sympathy for Alfie throughout the book due to his mother's awful and embarrassing antics. Even his teacher, Ginnie, tries to lessen the blow for the poor boy at school.
There are several comedic moments and my favourite was where someone gets locked out of his hotel room whilst stark naked. It might sound like a cliché but the scene was well written and very funny.
The description of the characters and the settings were vibrant. You could really picture what each of them looked like and what was happening around them. The setting of the Wild & Free festival was very similar to Latitude Festival in Suffolk. The Hibbertygibberty Wood reminded me of The Faraway Forest where performances are staged and stories told.
It took quite some time before I started to enjoy reading Wild and Free, but after some perseverance I began to look forward to the characters' stories. I'd recommend the book as it has a bit of everything in it: romance, drama, suspense, and comedy.
Book Reviewed by Jodie
Purchase Link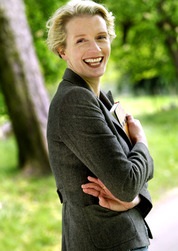 Wendy Holden grew up in Yorkshire, and studied English at Girton College, Cambridge. She worked in magazines for many years before joining Tatler's in 1997 as deputy editor, and later moved to the Mail on Sunday's You magazine, which she left in 2000 to concentrate on writing.
She regularly writes features for newspapers and magazines on a range of social, topical and lifestyle subjects and is also a television and radio contributor.
She has now published ten novels, Gallery Girl, Beautiful People, Bad Heir Day, Pastures Nouveaux, Fame Fatale, Azur Like It, The Wives of Bath, The School for Husbands, Filthy Rich, Farm Fatale, Gossip Hound, Simply Divine, all top 10 bestsellers.
Holden is married, and lives in England with her family.