West of Sin by Wesley S. Lewis – Book Review
West of Sin by Wesley S. Lewis – Book Review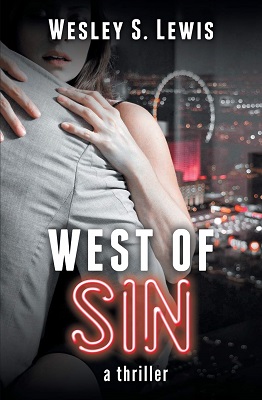 West of Sin
Author – Wesley S. Lewis
Publisher – Red Granite Press
Pages – 394
Released – 18th February 2020
ISBN-13 – 978-1734015744
Format – ebook, paperback, hardcover
Review by – Linda
Rating – 5 Stars
I received a free copy of this book.
This post contains affiliate links.


Jennifer Williams hoped her budding relationship with her newly single boss would make this year's real estate conference bearable. Then she caught her boss in bed with a coworker and sped off into the desert, leaving the conference, the hotel, and the Las Vegas Strip in her rearview mirror.
Lost and alone, she stops for directions at a small-town truck stop and disrupts a robbery in progress. Her presence threatens to escalate the situation, until another bystander—a man running from his own tragic past—steps forward to protect her. She soon learns that the attempted robbery wasn't what it appeared and that this small town west of Sin City is home to a big secret.

A good opening chapter tells us the main character Jennifer Williams is hurt and angry and so she has run away from her works conference stumbling into a whole lot of worst trouble, the type of trouble she could never have envisaged!
The book is packed full of everything you would want in a good thriller starting with an excellent opening chapter that invites the reader in with its excitement, drama, action, intrigue, and much more.
At first Jennifer Williams, comes across as an ordinary lady but as you read on you realise she has a good head on her shoulders and is prepared to do anything, has lots of guts, and plenty of courage. The other main character, Matt Williams, has had a tragic past but he too is determined and strong. Both characters are very well described and came across realistically. Another likeable person in the book is Vegas and my heart went out to her as she put herself on the line to help.
The story was so thrilling, hard to put down, and it had so many different elements to it. The further I read the more twists and turns I found. It's not for the faint-hearted though! West of Sin is a great book to get your teeth into and my interest was kept right to the end.
Well done Wesley S. Lewis for writing such a brilliant, action-packed story filled with lots of drama, twists, turns, and romance, what more can u ask for? I would definitely recommend West of Sin.
Book Reviewer – Linda
---
Purchase online from:
---
About the Author

Wesley S. Lewis grew up in Lubbock, Texas, and now lives in Austin with his wife, Anna, and their dog, Noodle. Wes's non-writing résumé includes stints as a filmmaker, skydiving instructor, political activist, and commercial real estate agent. West of Sin is his debut novel.





---
What did you think of West of Sin? Share your thoughts in the comment section below!
---
The above links are affiliate links. I receive a very small percentage from each item you purchase via these link, which is at no extra cost to you. If you are thinking about purchasing the book, please think about using one of the links. All money received goes back into the blog and helps to keep it running. Thank you.
Like us on Facebook – Tweet us on Twitter – Pin us on Pinterest