Never Saw You Coming by Hayley Doyle – Book Review
Never Saw You Coming by Hayley Doyle – Book Review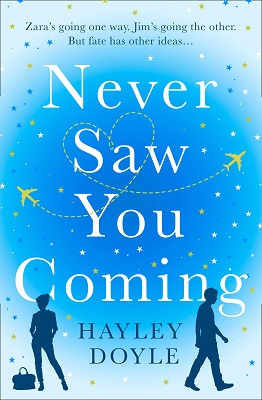 Never Saw You Coming
Author – Hayley Doyle
Publisher – Avon
Pages – 416
Released – 2nd April 2020
ISBN-13 – 978-0008365752
Format – ebook, paperback, audio
Review by – Stacey
Rating – 4 Stars
I received a free copy of this book.
This post contains affiliate links.


Some people go looking for love. Others crash right into it.
Zara Khoury believes in love – so much so that she flies from Dubai to Liverpool to be with a man she barely knows. It's a risk, but she's certain that uprooting her life for Nick is the new start she needs.
Jim Glover is stuck. Since his Dad died, he's put his dreams aside and stayed at home in Liverpool to care for his mum. Trapped in a dead-end job, he's going nowhere – that is, until he gets a phone call that just might change his life..
Zara and Jim aren't supposed to meet. But then fate steps in, and when their worlds – and cars! – collide, the real journey begins…

After an eventful night in Dubai that sees Zara Khoury getting injured, she runs into a night in shining armour, Nick, who helps her. The two form a long distant relationship, as Nick lives in Liverpool. One day Zara decides to surprise Nick and move to Liverpool to be with him. However, things don't quite go according to plan when she turns up at his door and a woman answers stating no one called Nick lives there.
After spending the night in a hostel and getting no answer to her texts she has sent Nick, Zara heads out in the second-hand car she has just bought. Distressed and crying she doesn't see the white BMW in front of her at a roundabout.
Jim Glover is a toll booth worker and feels his life is going no-where, that is until he wins a BMW on a breakfast radio show and finds out it is worth £50,000. He negotiates a deal with a friend's dad and after a heavy night celebrating in a hotel he sets off to meet him. However, his chance of getting the money quickly evaporated when a young woman smashes into the back of his car.
Never Saw You Coming is a fun, enjoyable and at times humorous read about two people who meet by a chance accident. Zara is impulsive and believes in love at first sight. Jim is more cautious and steady. Jim being the nice man that he is offers to help Zara out after the crash as her car is a write-off. He gives her a lift to Nicks again, though this time Nick is there, it's not long before his wife returns. He also has daughters.
The book was a quick read and I flew through the pages. It is told in first person dual povs in opposite chapters. Not something I enjoy normally but this book worked for me. I also don't usually buy into the 'met by accident' or 'finding out your lover is married' stories but this felt different, I think it is because it is told in a slightly tongue-in-cheek, amusing way.
Overall, this is a book that put a smile on my face whilst reading and gave me some light relief in these hard times.
Book Reviewer – Stacey
---
Purchase online from:
---
About the Author

Hayley Doyle was born in Liverpool, and graduated with a BA (hon) in Acting from the Liverpool Institute of Performing Arts. She pursued a career in acting, making her West End debut playing Ali in Mamma Mia! at the Prince of Wales Theatre, London. During this time, Hayley wrote her first novel 'Lazy Days and Lullabies'.
After graduating from Brunel University with a Masters in Creative Writing, 'The Day She Met Shirley Temple' was chosen as the winner of the Curtis Brown Award 2010 for a Brunel MA Student. Hayley currently lives in Dubai where she runs her own children's theatre and creative writing company, Hayley's Comet, and can be heard as a presenter on Dubai Eye radio.


---
What did you think of Never Saw You Coming? Share your thoughts in the comment section below!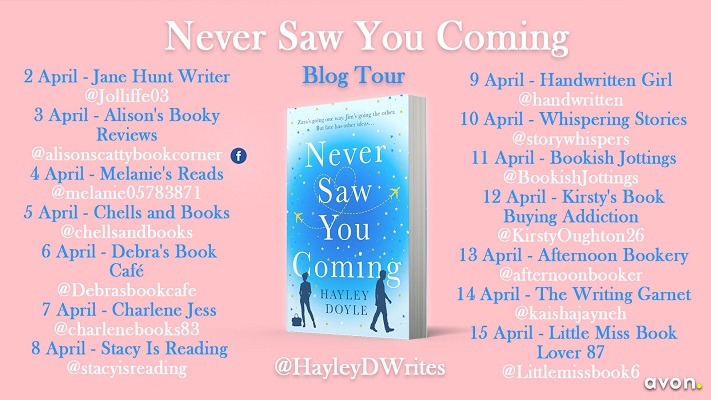 ---
The above links are affiliate links. I receive a very small percentage from each item you purchase via these link, which is at no extra cost to you. If you are thinking about purchasing the book, please think about using one of the links. All money received goes back into the blog and helps to keep it running. Thank you.
Like us on Facebook – Tweet us on Twitter – Pin us on Pinterest