Mortmain Hall by Martin Edwards – Book Review
Mortmain Hall by Martin Edwards – Book Review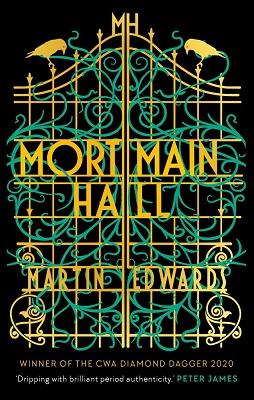 Mortmain Hall
Author – Martin Edwards
Publisher – Head of Zeus
Pages – 416
Released – 2nd April 2020
ISBN-13 – 978-1788546126
Format – ebook, paperback, hardcover, audio
Review by – Stacey
Rating – 5 Stars
I received a free copy of this book.
This post contains affiliate links.


ENGLAND, 1930. Grieving widows are a familiar sight on London's Necropolis Railway. So when an elegant young woman in a black veil boards the funeral train, nobody guesses her true purpose.
But Rachel Savernake is not one of the mourners. She hopes to save a life – the life of a man who is supposed to be cold in the grave. But then a suspicious death on the railway track spurs her on to investigate a sequence of baffling mysteries: a death in a blazing car; a killing in a seaside bungalow; a tragic drowning in a frozen lake. Rachel believes that the cases are connected – but what possible link can there be?
Rich, ruthless and obsessed with her own dark notions of justice, she will not rest until she has discovered the truth. To find the answers to her questions she joins a house party on the eerie and remote North Yorkshire coast at Mortmain Hall, an estate. Her inquiries are helped – and sometimes hindered – by the impetuous young journalist Jacob Flint and an eccentric female criminologist with a dangerous fascination with perfect crimes…
Mortmain Hall is at once a gripping thriller and a classic whodunit puzzle: a Golden Age Gothic mystery, the finest novel yet from a modern master of crime writing.

Rachel Savernake is a criminologist enthusiast, she is also the daughter of a now-deceased judge who ended up losing his mind after he sentenced a man to death for a crime he didn't commit. Rachel lives in a large house with her trusted staff and helpers the Trueman's.
The book opens with Rachel trying to save a man she calls a ghost. Author Gilbert Payne, who faked his death a few years ago and is now pretending to be Bertram Jones, is on the funeral train having returned from Tangiers for his mother's funeral. Rachel warns him that there are people on the train looking to kill him and that she will protect him but she wants to know why he faked his death and why someone wants to kill him.
Gibert Payne refuses to heed her advice and help and is found dead on the train tracks later that day. Civil servant Reggie Vickers was the one who told Rachel about Gilbert as he was his friend and had hoped to save his life. Reggie is now running scared from not only people warning him to keep his mouth shut but from Rachel and her questions as she believes he knows more than he is telling.
Journalist Jacob Flint has been following the case of Clive Danskin, accused of murder, the case seems to be open and shut with the verdict set to be guilty, that is until a witness comes forward at last minute and he is set free. Criminologist Leonora Dobell is at the trial and talks to Jacob. She knows that he is on friendly terms with Rachel and wants him to pass on a message to her, she would like a meet to discuss a murder. Leonora lives in Mortmain Hall.
Mortmain Hall is a mystery/sleuth book set in 1930s England. Rachel Savernake is quite a reclusive young woman who spent most of her time in a big house in the country looking after her sick father. Now he has deceased she has decided to use the skills that she has learned over the last few years following the books on criminology written by Leonora Dobell.
The book features many subplots from different cases that all come together in a kind of murder mystery weekend setting at Mortmain Hall. The book is completely fascinating and I just couldn't put it down. Rachel is a phenomenal woman who is headstrong and is a match for any man of the time period. She is exceptionally wise, ruthless, and quite scary to some.
I love historical detective books and this is up there with the best. The plot draws you in and has you trying to analyse everything that is happening and wondering how they are all joined together and the writing is sublime. I was completely gripped from the opening chapter to the last. If you love sleuth books then this is a must-read.
Book Reviewer – Stacey
---
Purchase online from:
---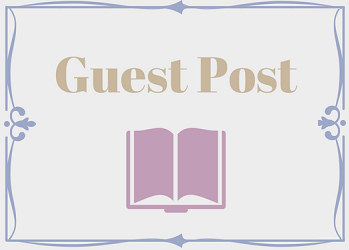 My Top Ten Favourite Agatha Christie Novels
Agatha Christie is the most successful detective novelist in history. In fact, she is the all-time bestselling novelist in any genre. This isn't luck or just a matter of good marketing. There is a timelessness about her mysteries, and a universality about the character types who inhabit her fiction that gives the stories an appeal that is global and enduring.
Christie inspired my love of the genre, and you can trace her influence in several of my novels, including Mortmain Hall, which is (among other things) a country house mystery in which the great detective gathers the suspects in the library to reveal whodunit. She was a founder member of the legendary Detection Club in 1930 and for the last twenty years of her life she was the Club's fourth President. The Club is celebrating its 90th birthday this year and as the eighth and current President, I'm thrilled to be following in her footsteps.
Here are my ten favourites among her novels.
The Murder of Roger Ackroyd
Hercule Poirot's retirement from detection didn't last long. He's growing vegetable marrows in a small English village when he's prompted to investigate a murder in collaboration with a local doctor. Controversial in its day, this is the detective novel that shows you really do have to suspect everyone.
The Murder at the Vicarage
Miss Marple's first full-length case is another classic village mystery. Can the genteel elderly spinster outwit the official police as well as a cunning murderer? You bet she can.
Peril at End House
Christie specialised in stories in which the 'least likely suspect' proves to be the murderer. Her skill at misdirecting the reader is seldom more evident than in this clever mystery, set on the English Riviera.
Murder on the Orient Express
One of the most famous detective stories of all time, this train-based mystery defeated the legendary private eye writer Raymond Chandler, who complained that 'only a half-wit could guess it.' He shouldn't have been so grumpy. All the clues are there, if only you can spot them.
The ABC Murders
A sequence of killings linked by the alphabet seems to be the work of a deranged killer who is determined to taunt Hercule Poirot about the crimes. The little Belgian sleuth rises to the challenge in one of the most influential of all detective novels.
Death on the Nile
Christie's love of the Middle East meant that she often used it as a setting for her stories. This classic cruise mystery involves a tangle of romantic relationships which conceals the truth to a sinister murder plot. Fortunately, Hercule Poirot is on board…
Five Little Pigs
Poirot investigates a possible miscarriage of justice. Was Caroline Crale, who died in prison, really the killer of her artist husband? This is a classic cold case mystery with a limited pool of suspects but Christie still manages to spring a surprise in a chilling finale.
A Murder is Announced
A strange advertisement in a local newspaper is the starting point for a baffling mystery. Miss Marple is confronted by a determined killer and an ingenious murder plot. Christie's use of a typographical clue in the text is especially neat. Of course, in the end our heroine prevails…
Curtain
This dark if low-key story marks Hercule Poirot's final appearance as he returns to the scene of his first recorded case and reunites with Captain Hastings. The plot is one of Christie's finest, and most chilling. Surely her most under-estimated novel.
And Then There Were None
Often imitated, never bettered, this is a tour de force of detection – without a detective. Ten people are invited to a small island. One by one they are killed. What is the motive for the crimes and who is responsible? This is surely the finest of all detective novels in the classic tradition.
---
About the Author

Martin Edwards is the latest recipient of the CWA Diamond Dagger, the highest honour in British crime writing, given for the sustained excellence of an author's contribution to the genre. His most recent novels, set in 1930, are Mortmain Hall and Gallows Court, which was nominated for two awards including the CWA Historical Dagger. British librarians awarded him the CWA Dagger in the Library in 2018 in recognition of his body of work. His seventh and most recent Lake District Mystery is The Dungeon House. Earlier books in the series are The Coffin Trail (short-listed for the Theakston's prize for best British crime novel of 2006), The Cipher Garden, The Arsenic Labyrinth (short-listed for the Lakeland Book of the Year award in 2008), The Serpent Pool, and The Hanging Wood.
Martin is a well-known crime fiction critic, and series consultant to the British Library's Crime Classics. His ground-breaking study of the genre between the wars, The Golden Age of Murder, was warmly reviewed around the world, and won the Edgar, Agatha, H.R.F. Keating and Macavity awards. His The Story of Classic Crime in 100 Books won the Macavity and was nominated for four other awards.
Martin has written eight novels about lawyer Harry Devlin, the first of which, All the Lonely People, was short-listed for the CWA John Creasey Memorial Dagger for the best first crime novel of the year, The early Devlin books are now enjoying a fresh life as ebooks, with new introductions by leading authors such as Val McDermid and Frances Fyfield, as well as other new material.
In addition Martin has written a stand-alone novel of psychological suspense, Take My Breath Away, and a much acclaimed novel featuring Dr Crippen, Dancing for the Hangman. The latest Devlin novel, Waterloo Sunset, appeared in 2008. He completed Bill Knox's last book, The Lazarus Widow. He has published many short stories, including the ebooks The New Mysteries of Sherlock Holmes and Acknowledgments and other stories. 'Test Drive' was short-listed for the CWA Short Story Dagger in 2006, while 'The Bookbinder's Apprentice' won the same Dagger in 2008.
A well-known commentator on crime fiction, he has edited 40 anthologies and published diverse non-fiction books, including a study of homicide investigation, Urge to Kill. An expert on crime fiction history, he is archivist of both the Crime Writers' Association and the Detection Club. He was elected eighth President of the Detection Club in 2015, spent two years as Chair of the CWA, and posts regularly to his blog, 'Do You Write Under Your Own Name?'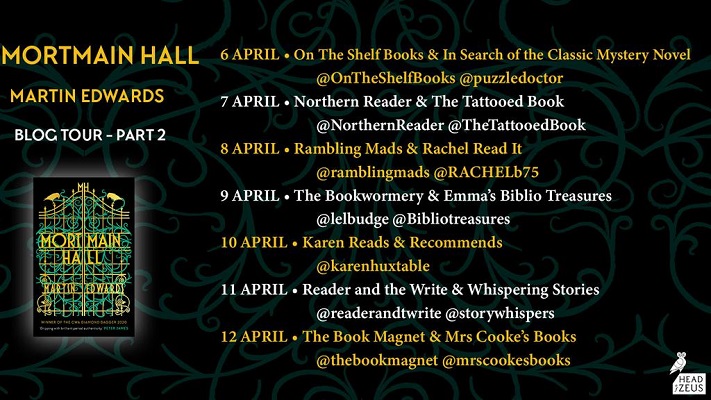 ---
What did you think of Mortmain Hall? Share your thoughts in the comment section below!
---
The above links are affiliate links. I receive a very small percentage from each item you purchase via these link, which is at no extra cost to you. If you are thinking about purchasing the book, please think about using one of the links. All money received goes back into the blog and helps to keep it running. Thank you.