Cenotaphs by Rich Marcello – Book Review
Cenotaphs by Rich Marcello – Book Review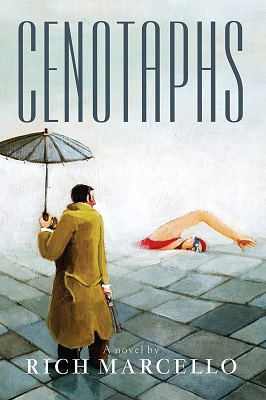 Cenotaphs
Author – Rich Marcello
Publisher – Moonshine Cove Publishing
Pages – 148
Released – 21st June 2021
ISBN-13 – 978-1952439117
Format – ebook, paperback
Rating – 4 Stars
I received a free copy of this book.
This post contains affiliate links.


Synopsis
AFTER A CHANCE MEETING, AN OLD MAN AND A MIDDLE-AGED WOMAN CHART AN UNCONVENTIONAL PATH FORWARD.
When Ben Sanna, a contemplative retiree with a penchant for helping people, and Samantha Beckett, a secretive New York City hedge fund manager, meet by chance in a small Vermont town, they enter into a tenuous relationship. Over several weeks, Samantha and Ben open their pasts inch by inch, sift through their futures consciously, and come to terms with the strength and depth of their bond.
A meditation on redemption told in alternating chapters of musings and scenes, Cenotaphs is about platonic love; the ways we close ourselves off in reaction to pain and what happens when we open ourselves up again; and the deep, painful legacy of loss.
"A tomblike monument to someone buried elsewhere." That's how Ben Sanna describes a cenotaph to his new friend, Samantha Becket. Ben is in his seventies, retired from a career working with artificial intelligence. He lives in the tiny (and fictional) town of Hasman, Vermont. There he lives a quiet life in a cabin that sits on a hundred acres of land. But the bucolic lifestyle is partly a means to escape a painful past and the losses that defined it. Ben works to atone for his perceived failures by using what wisdom he's accumulated over his years to help people.
Samantha Becket is younger, 45, and is a hedge fund manager from New York. She, too, has painful memories that she tries to blot out with workaholic hours and a string of sexual partners. But if any of the men in her life tries to develop a real relationship, she dumps him in a New York minute.
Ben frequently meets his friends at Joy's Breakfast and Lunch Joint and it's there at Joy's that he meets Samantha. Driving through Vermont, ostensibly on her way to Montreal, she stops for lunch at Joy's and brazenly joins Ben and his friend, Scott. Thus begins the unlikely relationship between Samantha and Ben.
Cenotaphs tells the story of two strangers who quickly move from tentative beginnings to a deeply connected friendship. Their relationship isn't sexual, although there are occasional sexual undertones. Nor is it romantic in the typical sense. Instead, an almost spiritual connection develops between two broken and hurting people who've tried with only limited success to bury elements of their pasts. Together, Ben and Samantha try to help each other escape the emotional prisons they've built for themselves. But is it possible to escape, or are their patterns of denial too entrenched to overcome now?
At times tedious, often poignant, Cenotaphs is a story that seduces you into caring about Ben and Samantha. The writer is adept at plucking the reader's heartstrings, which gives the story an unexpected emotional impact. It wasn't necessarily a smooth ride but overall, it's an uplifting story.
Purchase Online From:
---
What did you think of 'Cenotaphs'? Share your thoughts in the comment section below!
---
The above links are affiliate links. I receive a very small percentage from each item you purchase via these links, which is at no extra cost to you. If you are thinking about purchasing the book, please think about using one of the links. All money received goes back into the blog and helps to keep it running. Thank you.
Like us on Facebook – Tweet us on Twitter – Pin us on Pinterest – Join us on Instagram